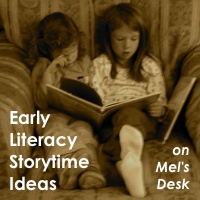 I've always loved Miss Julie's descriptions of her Beginning Reader storytimes and appreciate how she incorporates writing into her routine. As I thought about writing and storytime, I wanted to do something similar for preschool storytime. Since the age group would be younger than Julie's, the emphasis would need to be more on modeling the writing and on building print awareness rather than on decoding activities.
Here's one way this might work with a preschool group…let me know what you think!
This is an activity to pull out when you have a book with a particularly rich illustration, or a couple of detailed puppets, or something else with exceptional visual interest. You'll need a large sheet of paper or a whiteboard and a marker ready to go.
After you've read your book or used your prop, tell the children something like this:
"One of the reasons I liked reading that book with you today is because of this great picture…" or "Aren't these puppets fun to look at?"
Describe a detail you like about your picture or prop. "I like this picture because of all the colors of green in the leaves." or "I like that this puppet has especially fuzzy hair."
Invite the children to tell you a few details that they notice, or something they like about the picture or prop.
Write down some of the words they use on your board.
After you've gathered a few comments, you can say, "Wow, look at all these cool words you used! [point to them as you read them one by one]. Parents, when you write down what your children tell you, your kids get practice using all the great words that they know, and they will also start to make the connection between the words that they use and the writing on the page. These are great stepping stones to learning how to read."