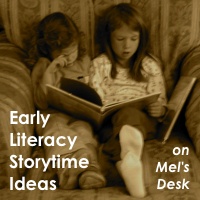 Speech therapists talk about setting up "communication temptations" in order to motivate children to communicate or speak. A communication temptation is a situation that a child really wants to resolve in a certain way, so they are willing to try to use their signs and/or their words to get what they want. For example, a therapists might offer them a food that they don't like, or take away one piece of a puzzle they are solving together. The child really wants to say "No!" or to find all the pieces, so they may be more willing to use their words. Any time we make it tempting for children to use their expressive vocabularies, we are helping their language skills become more fluid. One way to set up a communication temptation is by using a repetitive or predictable book, pausing before you finish reading a sentence or a phrase, and waiting for the children to fill in the missing word, phrase, or idea.
One way to do this is to choose a book for storytime that has sentences that are incomplete on one page, then are completed after you turn the page. This sets up a nice delay for the children to fill with their suggestions for the next word.
Some titles with this type of page turn are:
Flip Flap Fly, by Phyllis Root
Yawn, by Sally Symes (a board book)
I Ain't Gonna Paint No More, by Karen Beaumont
Monkey and Me, by Emily Gravett
There are other books that don't have incomplete sentences on their pages, but they still can work well if you include pauses for children to fill in.
Brown Bear Brown Bear What Do You See? by Bill Martin Jr
I Spy with My Little Eye, by Edward Gibbs
Whose Nose and Toes? By John Butler
There are many, many books that would work for this! Choose your own favorite!
Read your book with the children. Pause when the book indicates so that the children have a chance to fill in the missing word. Or, insert pauses before the ends of sentences or phrases, or before a repetitive phrase in the book. With Brown Bear, you would say, "I see a …" [pause] / [turn the page] / [wait for the children to name the animal] / [then continue] " …yellow duck looking at me."
Tell them they are being good listeners and good thinkers! When you've finished reading the book, say something like this to the adults: "Grownups, when you let your children finish a phrase in the book, they practice saying the words they know and have a chance to say new words. The more words they can say, the more words they will be able to read easily."