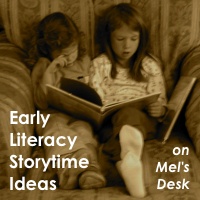 We know that learning how rhymes "work" is a critical pre-reading skill. Nursery rhymes and Mother Goose songs are such a fabulous way to introduce rhymes and rhyme-play to children. But in addition to helping to boost "decoding" skills such as phonological awareness, nursery rhymes contribute to reading readiness in another way: by adding to a child's background knowledge. The more nursery rhymes children know (from all of their language cultures) the more allusions and references they will be able to make sense out of in the stories that they read and listen to.
I had purchased the Wee Sing Mother Goose CDs for each of our branches, and was noodling around for some simple clip art images that might go along with…when I discovered that you can buy clip art on etsy. O.o
I found some GREAT sets from Little Red's Clip Art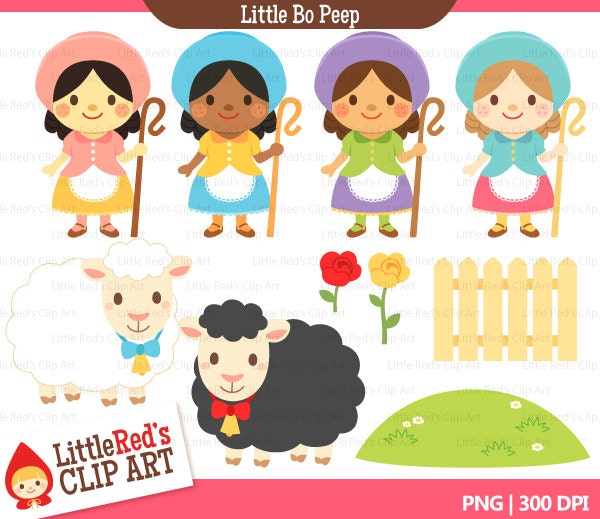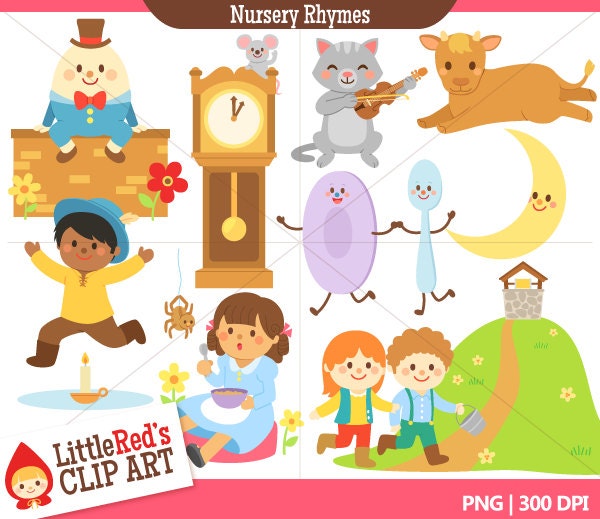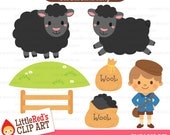 Seriously, how adorable are these? PLUS you get your main characters in four different skin tones. <3
(She ALSO sells sets for folk tales, like 3 Pigs, Gingerbread Man, Riding Hood…plus Snow White, Cinderella, Rapunzel…wouldn't these be great to laminate and leave out at a flannel board in your children's room, for families to tell the stories to each other?)
ANYWAY, while I was looking at every single clip art set she had, I noticed this set, which she calls Say Goodnight.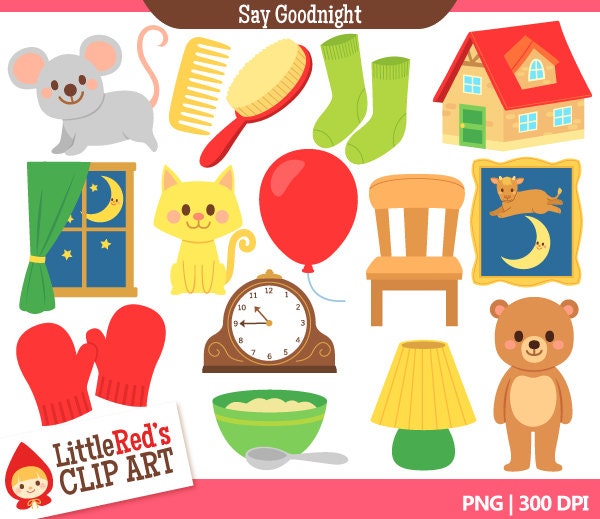 It's a set of images that she made to go with the book Goodnight Moon…kittens, mittens, house, mouse, bear, chair. What I realized was that we could use these images mixed in with the Mother Goose images to play a Mixed Up Game in storytime.
I wrote and asked her if I needed to purchase a license if I were going to duplicate the sets for 8 branches and use them in public library storytimes, and she said no, so I bought all four sets. I copied a lot of the images into a Word doc so I could print the ones I wanted on our color printers, and laminated them. (NB: If you hot laminate your pieces, just be aware that will bump up your cost for these images a bit. I love hot laminate because it's thicker, more durable, I can write on it easily with Sharpie, and Velcro buttons stick to it better than cold laminate, but sheesh it's 60 cents a sheet if you can find it on sale.)
I laminated them and cut them out,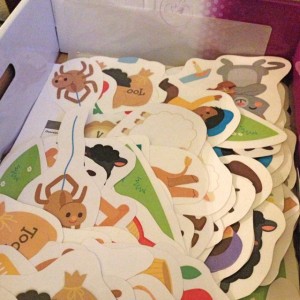 sorted them,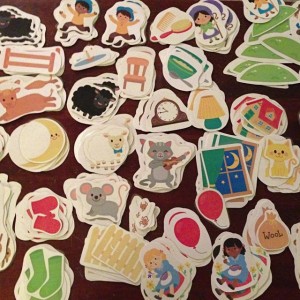 (despite help)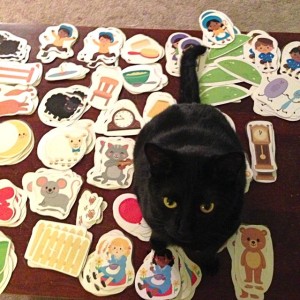 and Velcro'd them and put them into sets for each branch. Now we can play Mixed Up Mother Goose!
The idea is that you start to say a rhyme while putting matching images on your flannelboard…but then you mess up and let the kids catch you.
"Hey Diddle Diddle, the cat and the fiddle, the sheep jumps over the moon?"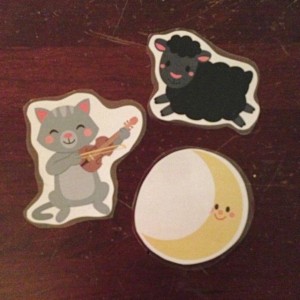 "Oh my goodness, the sheep doesn't jump over the moon, a COW jumps over the moon!"
Or, "Little Bo Peep has lost her kittens."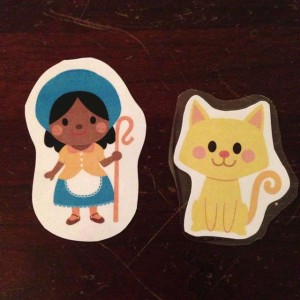 Or, "Hickory Dickory Dock, the mouse ran up the socks."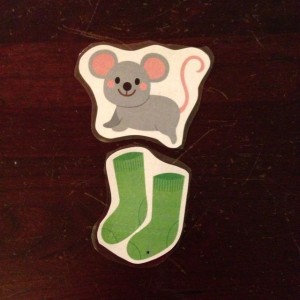 You can start this game in a couple of ways, depending on the age of your kids or the amount of nursery rhyme knowledge they already have. If they are younger, or don't know the rhymes very well yet, you can start by saying, "I have some favorite nursery rhymes to share with you today! The first one goes like this." Then recite your first rhyme. Then say, "I have some pictures that go with, but they are all mixed up! Maybe you can help me sort them out." Then say the rhyme again, putting the wrong picture up on the board. See if they catch you! If not, you'll have to catch yourself. "Wait a minute, that's not a cow!"
It could be kind of fun to link the rhymes together. For instance, say Jack Be Nimble with a sheep instead of a candlestick. Then you could say, "You know, there isn't a sheep in THAT rhyme, but I know another rhyme with a sheep in it! It goes like this." And share Little Bo Peep or Baa Baa Black Sheep or Mary Had a Little Lamb with them next.
With older children, or kids who know the rhymes pretty well, you can just start to recite the rhymes and get the wrong pictures and the wrong words mixed in. For instance, "Baa Baa Brown Bear have you any mittens?"
Play it a few times, then afterwards, tell the parents and adults, "The more rhymes you and your child play games with and learn by heart, the more they add to their cultural awareness and background knowledge. Knowing who Miss Muffet is or what happens to the Itsy Bitsy Spider will help them understand what's going on when these characters' names or actions appear in other stories that they read. Singing and playing with your child will help them get ready to read!"