TGIFF! (Thank Goodness It's Flannel Friday, of course!)
Super Sharon at Rain Makes Applesauce will have the Round Up later today!
Mollie and Katie have already presented a fun ladybug rhyme for Flannel Friday; here's another way to use ladybugs for counting in storytime.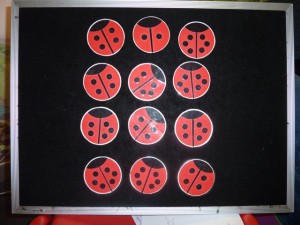 I made a set of about 30 ladybugs, and each ladybug has one, two, three, four, five or six spots. I used a 3″ scrapbooking circle punch on red construction paper, then I actually cut out all the black pieces from black construction paper, glued them on, and laminated the whole thing on top of white cardstock.
To make the black "heads" I cut a black 3″ circle, then cut that into four quarters. Each quarter I glued on to the edge of the red circle, then trimmed it off. The black line is just a skinny piece of construction paper, and the spots are cut with a 1/2″ circle punch.
I have to admit, I do like how cutting and punching the black shapes made the ladybugs so uniform, but really, a black Sharpie would do the trick much more quickly.
Here's a close up: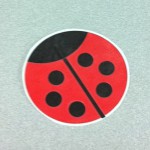 Hand all the ladybugs out to your group, then tell the kids to count how many spots are on their ladybug. Have all the kids with one spot bring them up to put on the board, then all the kids with two spots come up, and so forth.
Or, you can put twelve random ladybugs on your board as you sing "The Ladybug's Picnic" from Sesame Street.
What else could you do with all these ladybugs?