Believe it or not! Flannel Friday is turning FOUR this spring! What started out as a few bloggers and tweeters with some flannelboard ideas has turned into a wonderful community and a week-in, week-out celebration of storytime.
Sharon at Rain Makes Applesauce had the great idea to mark our anniversary in a new way this year. On March 4th, we will hosting a Guest Post Palooza!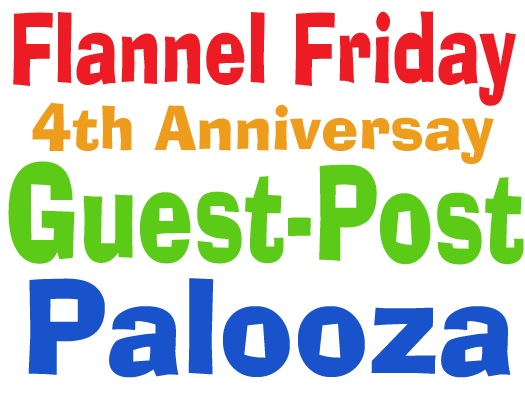 If you've ever wanted to share one your favorite flannel boards, or any storytime activity idea, but don't have a blog, whoo-hoo! this is your opportunity. We will pair you up with an established Flannel Friday blogger who will share your idea as a guest post written by you! We know the FF world is MUCH BIGGER than just the FFers who blog. We would love to celebrate this year with as many FF voices as possible!
So we're looking for Flannel Friday readers & doers who would like to write up their ideas, and we're looking for Flannel Friday bloggers to serve as hosts for the guest posts.
We hope this will be a fun way for each of us to get to know someone new in the FF community, to hear from even more awesome storytime folks, and to test-drive writing a blog post if you're curious about how it works!
If you're interested, go ahead and fill out this Google form. Sharon or Mollie will contact you with a match.
Do you want to talk about it first? Just leave a comment here!
As always, there's more info on our website too.