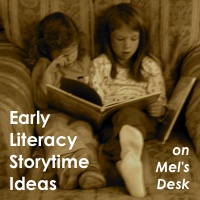 When children understand that stories have a beginning, a middle, and an end, it gives them a way to anticipate what's going to happen next when they are reading their first stories. Reading is hard work, and children need to both decode the words AND understand the story at the same time. Giving children experience with story arcs and patterns before they become readers is one way of giving them a little head start.
Some of our most familiar nursery rhymes, such as Itsy Bitsy Spider, Jack and Jill, Little Miss Muffet, Little Bo Peep, and Mary Had a Little Lamb, are really little stories! Share a song in your storytime, using flannelboard pieces, puppets, or a picture book.
If you'd like, before you sing it, you can ask the children questions about what they already know. What happens first? What happens after Miss Muffet sits down? What do they think will happen after Miss Muffet runs away? What would they do if a spider sat down next to them?
Sing your song together, then tell the parents, "Sometimes when you sing nursery rhymes with your child, you're really telling a little story. Hearing lots of stories and understanding how stories work helps children become good readers. Singing with your children will help them get ready to read!"