I'm working on a new "Balls and Blocks" baby storytime to do soon. This month is our month to highlight "playing" in our early literacy messages, so I thought some books about toys that support open-ended discovery play for babies would be a good fit.
I didn't really turn up a great book for babies that had building blocks as a main subject, but I do love the Meeow books by Sebastian Braun because they are so simple and yet model so perfectly that imaginative play that's so important.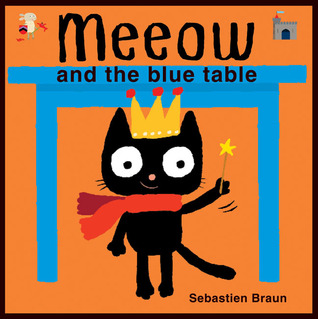 I'm going to read Meeow and the Blue Table, in which Meeow and friends turn a table, a blanket, and some building blocks into a castle to play in on a rainy day. I have a couple of bounce rhymes (like Here's a Ball for Baby) to do, but was wondering if I could think of a flannel set to add. I thought about singing Down Around the Corner at the Toy Store and using a bunch of photos of toys, but I think even I have a limit on how often I can sing that song and I may have reached it recently!
So instead I thought of a game of hide & seek, which fits nicely into our playing emphasis. I made a Meeow face, and then large squares for him to hide behind: a red blanket and blue blocks, but also a yellow chair and a cardboard box, which appear in Meeow and the Big Box. The cardboard box is a square of a shipping box that I peeled off one layer so you can see the corrugated stuff from the inside. It has a square of felt on the back to hold it to the board.
Next I'm going to put a hold on Meeow and the Pots and Pans and Meeow and the Little Chairs and look for more items from Meeow's world that I can add to the mix!
For now, here's my set: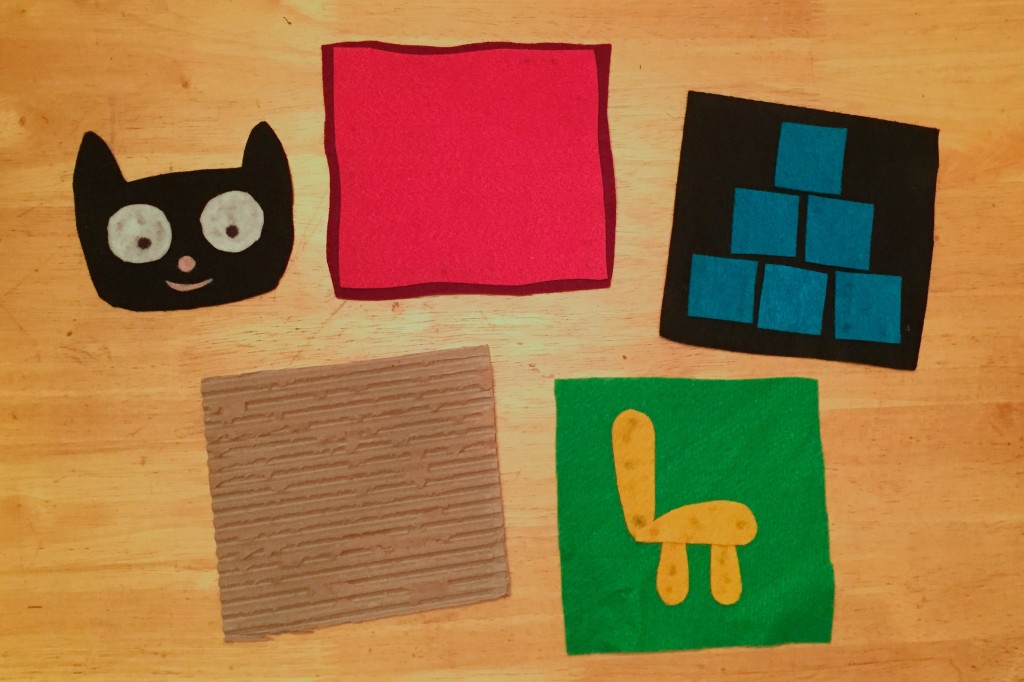 Looks like Meeow is hiding behind the red blanket!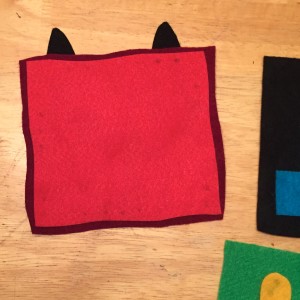 I put up the pieces and talk about them, and then we look behind one by one till we find Meeow. For the babies, I like to leave part of the "hider" peeking out from behind the objects, so the 1-year-olds can be awesome "seekers" and see where Meeow is. With older children, I would hide Meeow all the way under the objects, and maybe give clues: "I think Meeow is hiding behind a pile of toys we use to make tall buildings," or "Meeow is hiding behind something that is red and covers us up when we sleep."
This week's round up is at Mollie's place: What Happens in Storytime! Check it out for more great ideas for storytime. Investigate the Flannel Friday Pinterest for hundreds of flannelboards, songs, games, and rhymes arranged by theme. Ask questions and brainstorm ideas in our Facebook group. Learn more about Flannel Friday and upcoming hosts at our website.