Just a quick reminder that my amazing colleague Laurie Anne Armstrong and I will be presenting another free Early Childhood Investigations webinar for Follett Early Learning on February 26!

Our new session is called Early Literacy Beyond Circle Time: Integrating Language and Literacy into Play. [Register at the link!]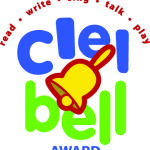 We will be talking briefly about the five Every Child Ready to Read practices, then use the five 2014 Bell Awards titles (and books from the shortlists) to highlight book-centered, literacy-based activities to share with children to prompt engagement in the five practices. Laurie Anne is an early literacy expert and leads our library's preschool outreach program. She visits high-need preschool classrooms and uses storytimes and activities as a way of training teachers on best practices for engaging children and building early literacy skills, and she has a million road-tested ideas. Our primary audience for this webinar will be ECE professionals, but librarians are certainly welcome and we know you will be able to pick up ideas for special storytime projects or family programs.
Do you have someone on staff who is new to Every Child Ready to Read concepts? My last ECI webinar starts with a basic overview of skills and practices, then shares the Bell Awards Silver Bells honor list from last year and shows how each book can support early literacy development. Follow the link to view the slides and listen to the archive.
See you in a couple of weeks!