Yes, babies, it IS all about you!
OPENING SONG: Hello Song*
OPENING FINGERPLAY: Open Them Shut Them*
BOOK: Bouncy Baby by BEGIN SMART
This is one of the new Begin Smart books. I love the bright, happy pictures!

BOUNCE: Trot Trot to Boston
Trot trot to Boston
Trot trot to Lynn
Trot trot to Grammy's house
Bounce baby gentle on your lap
But don't fall IN!
Gently drop baby between your legs!
BOUNCE: I'm a Little Cuckoo Clock!
Rock babies gently back and forth on your lap as you say the verse. Then lift them up in the air for each "Cuckoo!" Lots of our baby storytime providers at my library do this one every week. Here's my version.
Tick tock, tick tock
I'm a little cuckoo clock
Tick tock, tick tock
It's one o'clock!
CUCKOO!

Tick tock, tick tock
I'm a little cuckoo clock
Tick tock, tick tock
It's two o'clock!
CUCKOO! CUCKOO!
FLANNEL SONG: A Hunting We Will Go*
Today our rhymes were little things, because babies are little! Bug/rug, ants/pants, frog/log, etc.
BOOK: Yummy Yucky by PATRICELLI
Leslie Patricelli has the magic touch when it comes to books for babies. This one, with all the objects–good and bad–that babies get into, is a super fit for our theme!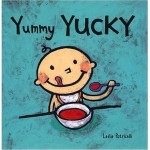 LITERACY TIP: Narrative Skills
When you're talking to your baby, don't just say, "Oh, that's yucky," or "That duck is silly." Tell them why, too! You're giving them lots of good describing words, and helping them learn about their world.
ACTION SONG: If You're Happy and You Know It
FLANNEL RHYME: Five Little Babies
I used five of my baby faces for this rhyme!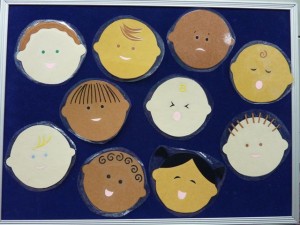 by Melissa Depper

Five little babies sitting in their cribs
The first one said, "I need another bib!"
The second one said, "I wish I had my ball."
The third one said, "I wish that I could crawl!"
The fourth one said, "Oh, when can we play?"
The fifth one said, "It's been a busy day."
Then Shhhhh went the mommies and out went the lights,
And five little babies said goodnight.
ACTION RHYME: This is Big Big Big*
CLOSING SONG: Sneeze Game*
*Check out the My Baby Storytime page for the words and/or citations for these weekly activities!