Another farm storytime!?! At least this one has two new chicks flannels! Thanks to Miss Jennifer, who also likes Charlie Chick, and whose Chickens storytimes sparked some ideas!
OPENING SONG: Hello Song*
OPENING FINGERPLAY: Open Them Shut Them*
BOOK: Clip-Clop by SMEE
Simple, repetitive and fun!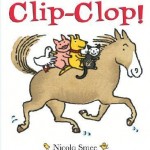 BOUNCE: Trot Trot to Boston
Trot trot to Boston
Trot trot to Lynn
Trot trot to Grammy's house
Bounce baby gentle on your lap
But don't fall IN!
Gently drop baby between your legs!
FLANNEL SONG: A Hunting We Will Go*
Today we used the animals from Clip-Clop, pig/wig, duck/truck, dog/log, and cat/hat.
BOOK: Rosie's Walk by HUTCHINS
I have the big book, which makes this more fun to share. One day after storytime, an 18-month-old toddler came up to look at Rosie's Walk, and as she turned the pages, she stopped and shook her head and said, "Nooooooo!" to the fox on every page!

FINGERPLAY: Here Is the Beehive
Here is the beehive
Make a fist with one hand, and cover it with the other
Where are the bees?
Hidden inside where nobody sees.
Watch as they come out of the hive!
One, two, three, four, five!
Lift up your hand, and open your fist to show five fingers.
LITERACY TIP: Print Motivation
As the weather gets better and you head out and about, don't forget to put a board book or two in your diaper bag or backpack!
FLANNEL RHYME: Ten Fluffy Chickens
I found this on The Best Kids' Book Site and immediately was struck by the image of yellow chicks emerging from white eggs, so I made this flannel. It is very cute and I am very happy!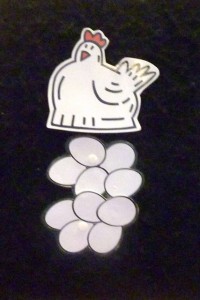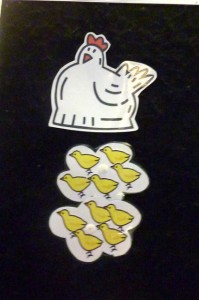 Five eggs and five eggs
Add a clutch of eggs each time you say "five eggs"
And that makes ten
Sitting on top
Add the hen
Is Mother Hen
Cackle cackle cackle
Clap hands as you say Cackle!
What do I see?
Ten fluffy chickens
Flip over each clutch of eggs.
Yellow as can be.
BOOK: Charlie Chick by DENCHFIELD
Charlie is so one of my favorites.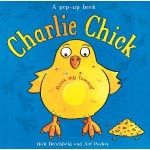 FLANNEL RHYME: One Little Chick
A rhyme with chicks of different colors sparked this idea instead!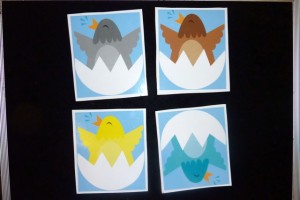 One little chick was gray
And one little chick was brown
One little chick was yellow
And one was upside down!
ACTION RHYME: This is Big Big Big*
CLOSING SONG: Sneeze Game*
*Check out the My Baby Storytime page for the words and/or citations for these weekly activities!