Our fall storytime sessions start today after a month off, and Mother Goose rhymes make for a fun and familiar way to welcome old friends back and to make new friends feel comfortable. See last fall's version here!
OPENING SONG: Hello Song*
OPENING FINGERPLAY: Open Them Shut Them*
BOOK: Big Fat Hen by BAKER
An oversized picture book with bold colors for little eyes.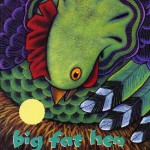 ACTIVITY: Two Little Blackbirds
Two little blackbirds, sitting on a wall
hold up pointer fingers
One named Peter, one named Paul
wiggle one finger, then the other
Fly away Peter! Fly away Paul!
tuck one hand behind back, then the other
Come back Peter! Come back Paul!
bring one hand back to front, then the other
SONG: Baa Baa Black Sheep
I use pop stick puppets with this song, and sing it with different color sheep.

FLANNEL SONG: A Hunting We Will Go*
Today we used crow/snow, sheep/Jeep, hen/pen, and bear/chair.
BOUNCE: Royal Duke of York
Many thanks to Anne and Brianna for the great Twitter conversation we had about this old rhyme! We talked about different variations (Is the Duke "royal," "grand," or "merry"?) and Anne reminded us that with older kids we can skip, jump, and hop up the mountain after we march, and Brianna taught us the "rolling" verse that I end with here. Yay for Twitter colleagues!
Oh, the royal Duke of York
He had ten thousand men
Bounce baby in lap
He marched them up the mountaintop
Lift baby up!
And marched them down again
Set baby in your lap again

Oh, when you're up, you're up
Lift baby up!
And when you're down, you're down
Set baby in your lap again
And when you're only halfway up
You're neither up nor down!
Bounce baby in lap

He rolled them to the left
Tilt baby to one side
He rolled them to the right
Tilt baby to the other side
He rolled them over upside down
Tilt baby gently backwards in your lap!
Oh, what a silly sight!
Bring baby back upright
ACTION RHYME: Pat A Cake
Pat a cake pat a cake
Baker's man
Bake me a cake as fast as you can
Clap baby's hands together
Pat it
Pat baby's tummy
And roll it
Roll baby's hands over each other
And mark it with B
Trace the letter B on baby's tummy
And put it in the over for Baby and me!
Clap again!
BOOK: Diddle Diddle Dumpling by PEARSON
This is small in size, but the illustrations about a bedtime routine (Daddy falls asleep reading to baby!) are wonderful.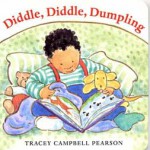 LITERACY TIP: Print Motivation
Researchers have found that kids who go to kindergarten with a few Mother Goose rhymes memorized have an easier time learning to read than kids who don't! Nursery rhymes introduce babies to the rhymes and rhythms of words, and that intimate knowledge really does give them a head start.
ACTION SONG: Twinkle Twinkle Little Star
ACTION RHYME: This is Big Big Big*
CLOSING SONG: Sneeze Game*
*Check out the My Baby Storytime page for the words and/or citations for these weekly activities!