This month in storytime we've been talking about how singing leads to reading. Of course, it's not just singing, but chanting rhymes and reading poetry that helps, too, so I like to do a Mother Goose storytime to showcase some great things to do with your little one. I have other Mother Goose baby storytime plans here and here, but there are so many good rhymes I have added this version as well!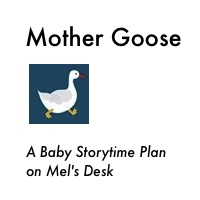 OPENING SONG: Hello Song*
OPENING FINGERPLAY: Open Them Shut Them*
BOOK: This Little Piggy by KUBLER


This is a sweet version with two pictures for each line of the rhyme: One with a baby wiggling a toe, and the facing page with the baby dressed up as a piggy and acting out the line.
Fingerplay: This Little Piggy
It's wintertime so many little piggies are covered up in socks. I tell the parents to just use fingers if they can't reach toes! Wiggle one toe for each line, starting with the big toe and ending with the littlest.
This little piggy went to market
This little piggy stayed home
This little piggy had roast beef
This little piggy had none
And this little piggy went wee wee wee wee all the way home.
BOUNCE: To Market To Market
After we bounced to this rhyme a couple times, I reminded the parents that they could keep it going by making up their own rhyme pairs: "To market, to market to buy a fat cat / Home again, home again, jiggety jat."
To market, to market, to buy a fat pig,
Home again, home again, jiggety jig.

To market, to market, to buy a fat hog,
Home again, home again, jiggety jog.
FLANNEL SONG: A Hunting We Will Go*
Today we used pig/wig, cat/hat, fish/dish, and crow/snow.
BOOK: Hey Diddle Diddle by KUBLER
Yes, another Annie Kubler book!

BOUNCE: Trot Trot to Boston
This is an old favorite. Bounce baby on your lap, gently dropping them between your legswhen you say, "in." I remind parents of young babies that they might be more comfortable bouncing facing in rather than facing out.
Trot trot to Boston
Trot trot to Lynn
Trot trot to grandma's house
But don't fall in!
LITERACY MESSAGE: Singing
You know how it sounds when you're listening to someone speak a language that you don't know? It sounds like one long stream of sound, doesn't it? That's what babies hear when they are first learning their language. When you bounce your baby to the beat of a rhyme, or clap their hands together each time you say a word, you are helping them learn to hear those sounds as separate words. They'll need to know sentences are made up of words when they start to learn to read.
FINGERPLAY: Two Little Blackbirds
I do this rhyme (or a variation) all the time with the babies, because they don't need too much fine motor control to be successful: just moving your arm and hand from back to front, with your pointer finger up! You can find my pattern for blackbird finger puppets here.
Two little blackbirds sitting on a hill
One named Jack and one named Jill
Fly away Jack!
Fly away Jill!
Come back Jack!
Come back Jill!
ACTION RHYME: This is Big Big Big*
CLOSING SONG: Sneeze Game*
*Check out the My Baby Storytime page for the words and/or citations for these weekly activities!