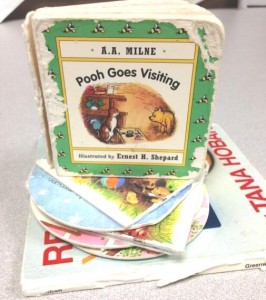 Despite their sturdy pages, board books are kind of ephemeral…they get beat up super fast in the library collection and apart from a core set of classics, they seem to go in and out of print quickly too. Besides your vendor's order lists, how do you stay on top of new releases?
Here's a few places to go for help:
The ReaderTotz blog is devoted to board books! Plus they just had their annual call for a board book award. (Cybils…are you listening? 🙂 )
Jen Robinson's Book Page has a category for board books.
Curled Up With a Good Kids' Book also has a board book category, and a long list of board book reviews.
The Best Books for Babies annual list, while not exclusively for board books, is still a great resource for highly-recommended titles.
And just this week, Travis at 100 Scope Notes talked about Edelweiss, a tool for searching new books & frontlist titles from multiple publishers at once. This is a new tool for me, and when I checked it out, I saw that you can limit your search to board books.
Thanks to Amy for making sure I knew about ReaderTotz! Where else do you go for board book news? What other blogs do a good job covering board book releases?