(Sheesh. Sorry about that post title!)
One of my favorite things about baby storytime is being able to give literacy tips and encouragement to the parents and caregivers. For the past five years or so, my library has been using Every Child Ready to Read materials to craft literacy messages for storytime. This is why you'll see that every one of my baby storytime plans includes a literacy message to the grown-ups. We used to build the literacy messages around the six early literacy skills, and now that Every Child Ready to Read has been updated, we pair our messages with a storytime activity so that we are highlighting the five practices as well.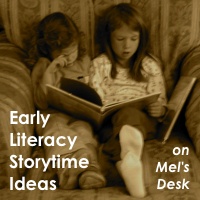 On and off this year I have been writing posts that describe some of these activity-and-message sets. We are putting these "sets" together because we like to give the early literacy message to parents immediately before or after an activity that models that skill or practice—so often it's easier to understand something that you've been shown rather than just told.
When I'm developing a literacy message like this for storytime, sometimes I will start with an idea for an activity, and sometimes I will start at the other end, with an idea for a message.
Start with a Storytime Activity
For instance, I LOVE singing in storytime, and I always like using books with songs in them in storytimes, too. I think it helps point families to the song books that live in the 782.42s (usually far away from the picture books where they do most of their browsing). This gave me an activity for storytime: singing a book; now I needed a message to go along with. So I thought about the early literacy skills that are reinforced by singing. Certainly songs build phonological awareness, but in this case, I was looking to direct families' attention to the books, more than the rhymes and sounds of the words. So I decided to write a message about how seeing songs in books helps children build their awareness of how print works—in this case, that print can be used for different reasons; not only for sharing stories, but for sharing songs as well.
Start with a Message
Sometimes I will start with a message instead. This year I read a lot about pre-writing skills, and one of the things I discovered was that it's important for children to build their core muscle strength in order to be good writers—because children who can sit up at a table without using their hands for balance are able to use both hands for holding the paper steady and holding the pencil when they write. I couldn't wait to share that message with my families. Now I needed an activity to go with: something to do in storytime that would model to parents how to build those core muscles. I settled on something we've done in Things That Go storytimes: acting out the song "Row Row Row Your Boat." Now we could sit & stretch & use our core muscles to keep our balance as we rowed down the stream, and right afterwards, I could tell the parents how such a simple activity could contribute to their child's reading and writing success.
Keep Reading, Keep Learning
If you want to add more literacy messages and activities to your storytimes, it's a great idea to start with what you know. Just jump in! Even if you don't think you know very much, the literacy messages you share will serve as reminders and encouragement to parents ("Hey, I've read The Itsy Bitsy Spider to my kid! I didn't know it was helping her get ready to read!").
Then, read a little bit at a time to learn more, and think of the fun things you're already doing in storytime that can serve as models for the grown-ups. Follow storytime bloggers who are sharing their literacy message ideas: Kendra and Amy and Mary and Lisa are a few good places to start. We are all always learning, and learning from each other!
If you'd like to read more about the practices and the skills, Mary and I have shared some content with Colorado Libraries for Early Literacy. You can read about the six skills, what the six skills look like in storytime, the five practices, and what reading, writing, singing, talking, and playing look like in storytime, too. We've also put together some links to other web resources about the six skills.
Of course, this isn't the only way to share literacy information in storytime! It's just the way we do it at my library. If you'd like to read about how someone else puts together literacy messages, you can't do better than checking out what Saroj Ghoting has to say. She has a strategy for delivering three separate, simple messages in each storytime that you can read about here.
How do you share early literacy messages in your storytime? What other storytime blogs talk about early literacy regularly? (Did I miss you? Let me know!)