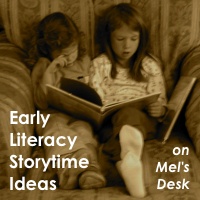 To build up their background knowledge and their understanding of their world, children need to know more than just the names of concrete objects. They also need to know the names for abstract concepts and feelings and ideas. Since children can't physically interact with these concepts, activities that prompt conversations can be one way to help children understand the meanings of these words.
My first inspiration for this activity was Anna's Flannel Friday post at Future Librarian Superhero, "Five Inna Bed." I usually use clip art images of toys or teddy bears for this song, and was completely taken by her use of faces and how such a simple switch boosted the opportunities for conversation and vocabulary development.
Then, when I went looking, I found several other Flannel Friday posts with versions of the same faces-and-feelings idea!
Mary at Miss Mary Liberry doesn't sing the song, just has children guess which emotion the face is showing. She adds in print awareness by showing word labels after the kids guess the emotion.
Nicole at Narrating Tales of Preschool Storytime made "feelings faces" to go along with a Jim Gill song, "Your Face Will Surely Show It," to help the children anticipate which verse will come next.
And Katie at Story Time Secrets adapted a Preschool Express version of "B-I-N-G-O" to sing about feelings, and she uses clip art faces too.
So choose one of these ideas, or make up your own activity to introduce some good emotions vocabulary. I made my own faces to share with you! For the Five In the Bed/Roll Over version, you can print the yellow, blue, purple, green, and red "emotions" faces and the matching "sleeping" faces. You can laminate them separately with Velcro on the backs, or if you have a magnet board you can glue the matching colors back-to-back with a magnet inside. Or you can use these faces as templates to make them out of felt–if you plan on making the faces with a Sharpie, you might want to make two layers so the sides don't bleed through to each other. If you'd like to use the Jim Gill song, you'll also print out the light blue "cold" face.
Then, after you share your activity with the children, say something like this to the adults:
"Parents, when you talk about feelings with your children, they begin to learn the words for ideas that they can't touch or see. This helps them become good readers because they will need to be able to understand abstract ideas when they are reading."
Faces for Feelings (13 page pdf)