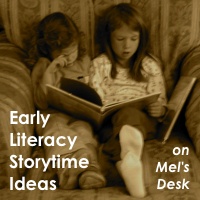 Reading is more than just sounding out words–it's also understanding what those words mean. Comprehension skills are important not just in and of themselves, but because if a child doesn't understand what they are reading, they will get frustrated and quickly lose motivation and interest. Preschoolers can build their comprehension skills with sequencing games and by re-telling familiar stories in order.
One way to do this in storytime is with a flannelboard for the classic "Going on a Bear Hunt." Actually, you could go on any kind of hunt you want–maybe you want to look for monkeys in the jungle or squid in the ocean or dragons in the forest.
Create a separate image for each obstacle in your version of the story–a deep, wide river or swishy swashy seaweed. (There have been several Flannel Friday posts: Sarah's version or Katie's version or Cate's version or Erin's version…did I miss anyone?)
When you start the story, tell the children that you're going on a Bear Hunt–that you'll be going far away and you will need their help so everyone can find their way home again. Put each image on the board–in a single line across the board if you can–as you come to that part of the story, then when you reach the bear's cave, have the children tell you each obstacle you need to pass on your way back. Younger children will you to help them by pointing to the images; older preschoolers may be able to tell you without any prompts, just by looking at the board.
If you really want to be tricky, maybe for a mixed-age group that has Kindergarten or 1st graders, tell the story without any flannelboard images on the way TO the bear's cave, then see if the children can tell you the correct order to get home–and as they tell you, then place the image on the board.
When you're done with the story, tell the grownups, "When you have your child tell you familiar stories, they are learning how to put the story's events in order. Sequencing is a comprehension skill that will help them when they are reading on their own."