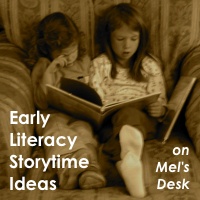 Here's a slightly different way than last week's post to model writing in storytime.
After you share a book or a song with a number of objects or animals or characters in it, you can go back and write them all down in a list!
Keep your young audience in mind when you choose a book or song to use for this activity; we shouldn't bog down storytime by creating a super-lengthy list. So maybe writing down all the things Pete the Cat steps in would work better than writing down all the food that the Very Hungry Caterpillar eats! Or when you want to try this activity, you could start by only singing three or four verses of The Wheels on the Bus or Old MacDonald instead of six or seven.
So, read your book or sing your song with the kids, then say something like, "Wow, we sang about a lot of parts of that bus! We started by singing about the wheels. [Write down "wheels" on the board.] What else?" Help the children remember "wipers," "windows," "doors," or whatever verses you chose.
Or if you read a book like, "Clip-Clop," by Nicola Smee, you could list all the animals in the book: Horse, Duck, Pig, Cat, and Dog. Turn the pages of the book so that the children can remember all the animals.
When you've finished your list, you can tell the parents, "When you make lists of interesting objects with your child, it gives them a different way to think about and learn new words. This helps them become a good reader because they will encounter words in many different ways when they read. Writing with your children will help them get ready to read."