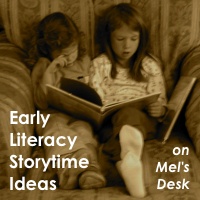 Here's a way to model talking with kids during your storytime!
Before storytime, look for a photo of yourself when you were a child. Think of a story or anecdote about yourself that goes along with your storytime plan or theme for the day.
After you read a book or do an activity in your storytime, get out your photo and say, "This is a picture of me when I was little." Then tell your story.
For instance, if I just read "Splish Splash" by Nicola Smee, I might say, "When I was a little girl, I didn't live near the ocean, but my grandma lived near a creek. My sister and I would go down to the creek and catch crayfish. They look like little lobsters and they would pinch our fingers! We'd keep them in buckets till dinner time, then we would let them go again."
Depending on your group, you might feel comfortable asking your children to tell you about a time they went to a lake or the ocean or a pond.
Then tell the adults, "When you tell your children stories from when you were little, you are helping them learn how stories work–that they have a beginning, a middle, and an end. Knowing how stories work will help them understand the stories they read themselves. Talking with your children helps them get ready to read!"