I shared photos and words for this flannel in the Baby Storytime: Farm post, but never uploaded the clip art, so here it is!
Ten Fluffy Chickens
I found this rhyme on The Best Kids' Book Site.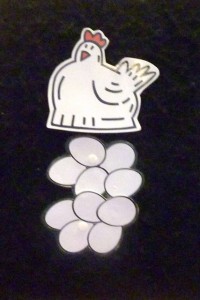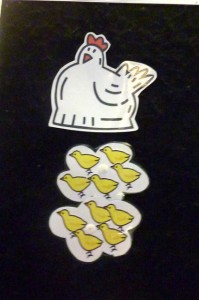 Five eggs and five eggs
Add a clutch of eggs each time you say "five eggs"
And that makes ten
Sitting on top
Add the hen
Is Mother Hen
Cackle cackle cackle
Clap hands as you say Cackle!
What do I see?
Ten fluffy chickens
Flip over each clutch of eggs.
Yellow as can be.
I printed out the clip art, glued the chicks to the back of the eggs, then glued the edges of the eggs together so that there are two groups of five eggs, and laminated them. There are round white Velcro dots on each side to make it stick. Go look at Storytime Katie for a super-cute felt version!
(Ed. 11/11: I am no longer sharing my clip art files due to copyright concerns, so I've taken down the link to the files. However, if you search in Microsoft Word clip art you may find the original files I started with.)