Flannel Friday is being hosted at Katie's place this week! Check out her blog Storytime Katie for the Round Up!
This idea grew from Abby's Apple Tree flannelboard. I wanted to make something to go with The Little Mouse, the Red Ripe Strawberry, and the Big Hungry Bear for our bookmobile librarian, but he doesn't have a huge flannelboard and I didn't want to give him a tree to grapple with.
So I decided to go with strawberries, just like the book.
You know me, I started with clip art! I found a really beautiful photograph of a strawberry, but I couldn't find more than one image that would work. More and more, I am trying to build flannel sets that support conversation and discussion. I wanted to be able to talk with the kids about which strawberry was bigger, which was rounder, that sort of thing. Since I didn't want to have five exactly identical strawberries in my set, I let that beautiful strawberry go and looked at cartoon clip art instead.
I tried to squish and stretch a nice cartoon strawberry into different shapes and sizes with the Edit Picture tools, but they were looking pretty lame, and finally, I said, "Hello? Mel? You could do this quicker with felt."
Here's a photo: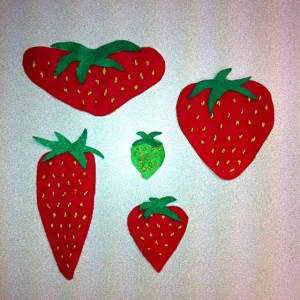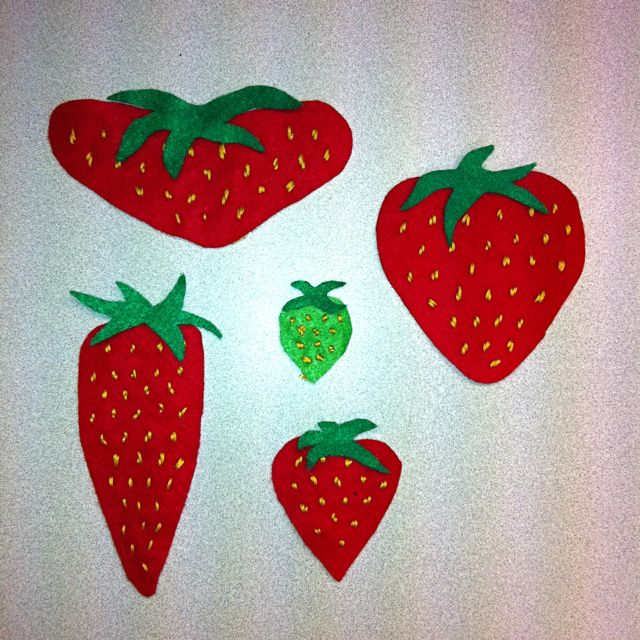 The seeds are stitched on using cross-stitch floss, but only because it was easier for me to use what was in the house than to go out and get puff paint or something. Don't feel obligated to do the same!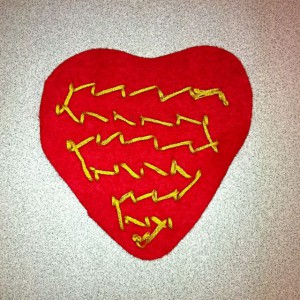 Here's a scan of all the leaves and strawberries in separate pieces, that you can print and use as a pattern if you'd like.
What can you do with these strawberries? You can use Abby's rhyme, adapted for strawberries instead of apples:
Five red strawberries, sweet to the core.
Bear came and ate one and then there were four.

Four red strawberries, growing near a tree.
Bear came and ate one and then there were three.

Three red strawberries, for you and you and you.
Bear came and ate one and then there were two.

Two red strawberries, sitting in the sun.
Bear came and ate one and then there was one.

One red strawberry, left all alone.
Bear came and ate it and then there were none.
Or you could use a mouse puppet, and say, "Mouse is going to hide all these lovely strawberries from the big hungry bear! Which one should he hide first? How about the skinniest strawberry? Which one is skinny and thin?" Go through all the berries, using as many good describing words as you can. I made the littlest one green on purpose so we could talk about ripe and unripe!
Or you could sing Down Around the Corner! "Down around the corner at the grocery store / Were five strawberries and not one more."
Have fun! I think they look very pretty and they are making me hungry for summer!