Welcome back to Flannel Friday!
Today I have some ducklings for you!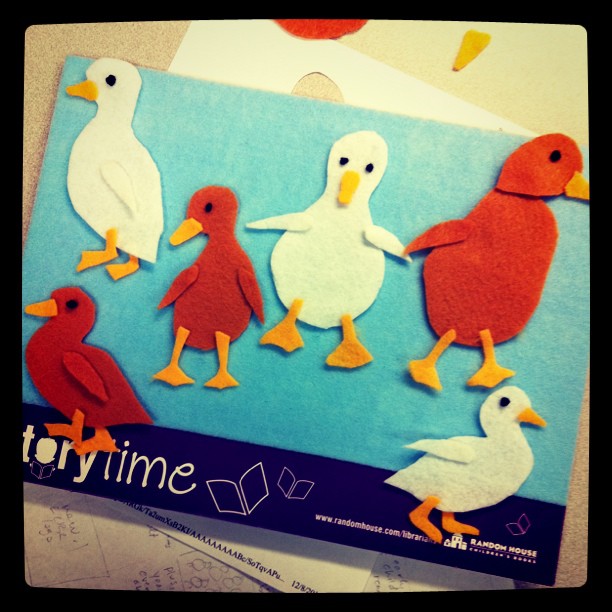 I actually made these as visuals for a training video I made for our staff, but you could use them for "6 Little Ducks That I Once Knew" or "5 Little Ducks Went Out to Play." (or 4 calling birds? 3 French hens?)
All the pieces are laid out on this pdf. The patterns are my own; I spent some time looking at photos of ducklings while freehand cutting shapes out of felt until they looked okay, so there's no right or wrong way to put these little guys together. You can use the printout as an actual pattern, and cut out the pieces and tape them to your felt, or you can use them as visual reference and just eyeball it as you cut your own pieces. Then have fun deciding where their wings and feet and beaks go!
Flannel Friday info for the week:
Mollie has the round up! She's at What Happens in Storytime. If you have a Flannel Friday post, you can comment there with a link, tweet a link to her @molliekay, or leave the link on the FB Flannel Friday page.
Next week we will be gathering Valentine/friendship/whatever ideas if you have them! If not, post a regular Flannel Friday!
Round up archives and host schedule is at So Tomorrow.
Visually scan all the Flannel Friday posts at Pinterest.
Talk about storytime and flannelboards at the Flannel Friday Facebook Page.
Follow Flannel Friday on Twitter with the #flannelfriday hashtag. (You don't have to be on Twitter to check this out.)
Last but not least, if you're a contributor, grab the blog button in the right hand menu here at Mel's Desk!