Today's flannel is one I've shared before on this blog, but I just updated it and wanted to share it again!
Every week in my Baby Storytimes we repeat five elements: I have an opening song and an opening rhyme and a closing rhyme and a closing song that stay the same, and then somewhere in the middle, we always sing "A Hunting We Will Go."
A hunting we will go, a hunting we will go
We'll catch a fox and put him in a box
And never let him go!
How I Do It
I sing it to the tune of "The Farmer in the Dell," but I just found out there's another tune for it, too. (Now that I have two tunes in my head we'll see if I can sing it at all on Monday!) I also realized that some versions are more tenderhearted than mine, because they change the last line to "And then we'll let him go." Oh well! Too late now, all my grown-ups have memorized it this way already!
What I've done is made a BUNCH of clip art image pairs: a fox and a box, a goat and a boat, a bug and a rug, and so forth. Every week I choose four rhyming pairs that match our theme in some way, and put them up on the flannelboard. As I put the pictures on the flannelboard, I talk about them a little bit. I talk a LOT in Baby Storytime! I like to model to the parents how you can chatter away with a little one who isn't responding yet verbally.
Then we sing the song four times. For every verse, we bounce the babies on our laps for the first line, then give them hugs and snuggles for the last two lines.
What Does It Look Like?
Here's our set for a Things That Go storytime. For this one I'll put the vehicles up first, "Look! Here's a red Jeep. A Jeep is a kind of a car. Here's a green boat that floats on the water." Etc. Then, "Here's a sheep for the Jeep and a goat for the boat…" And then we bounce and sing!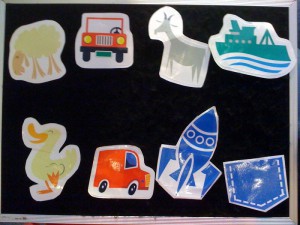 For our Dr. Seuss storytime, we started with a cat and a hat, but there's the mouse and fox from Green Eggs and Ham, and a fish for One Fish Two Fish Red Fish Blue Fish!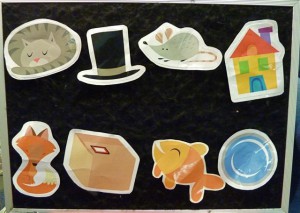 For my Dinosaur storytime, I chose big things: the house, the whale, the tree. For a Wiggles storytime, you could choose the bug and the ants and the bee. I never try too hard to match things up, and sometimes just one animal or object will relate to the theme, and I'll just choose any pairs for the rest.
Stay and Play
The other thing we do with these flannel pieces is play with them after storytime! We have time to stay and play after storytime is over, and I get out some soft balls and rings or scarves and shakers for the babies and grown-ups to explore together. I also set the flannelboard on the floor and put out the rhyme pairs we used that day. The babies LOVE to put them on and take them off, and it's such an easy way for the grown-ups to start a conversation with their little ones! "Which picture do you have? It's a sheep! What does a sheep say? What else do you want to put on the board? Oh, the dish!" The older kids can start to match the pictures by rhyme, too.
Repeating for a Reason!
One of my favorite stories about this song is when a mom came in to storytime one morning, and said, "Miss Melissa, I have to tell you, we were at the zoo this weekend, and ALL we did was sing "A Hunting We Would Go" about all the different animals!"
I laughed and started to apologize (that's a lot of verses, after all!) but then I caught myself and said, "That's why we sing it over and over every week, so you guys can learn it by heart!"
Rhyming games are EXCELLENT for our little ones' brains, and help them get ready to sound words out when they start to read. "A Hunting We Will Go," "Down By the Bay," and "Willoughby Wallaby Woo" are just the type of songs that grow with our kids, from bouncing and listening as babies to making up their own rhymes and verses as preschoolers. Hooray!
That's Great, Mel, Where's the File?
(Ed. 11/11: I am no longer sharing my clip art files due to copyright concerns, so I've taken down the link to the scans. I found these animal cartoons in Microsoft Word clip art, but they are no longer available there, which is a shame since they are so charming. You can search your favorite clip art sites for animal images you like, and then search for rhyming images.)