Happy Thanksgiving! I want to start this week by telling you all how grateful I am for the Flannel Friday community. You guys make my life richer and my work much more fun. Thank you for the generosity of spirit and time and talent that you share with us all every week. You're so cool.
This week my post is kind of thrown together and I may come back with a part II when I have some more examples to show. Ever since I made my Catkin set a few weeks ago, I have been having fun playing with my needles and thread and learning new embroidery stitches.
Yesterday, in between making the cranberry sauce and mashing the potatoes, I was noodling around with the idea of making little dolls for my nieces for Christmas. My sister's kids are Waldorf kids, and I have fallen in love with Waldorf toys. So here I am, stitching away at a little felt doll, thinking, "Hmmm. I still don't have a Flannel Friday for tomorrow. I wonder what I should try to pull together?"
*Insert light bulb here*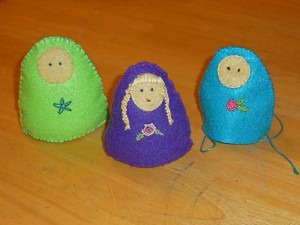 One of the reasons I shy away from adapting folktales or picture books to the flannelboard is that making people out of felt is a pain in the neck! But these little dolls made me realize that simple, essential shapes can sometimes do the trick, too.
These dolls are made out of two arch-shapes sewn together and stuffed, then with an oval shape sewn onto the bottom. I put some dried beans in the lower part of the dolls to help weight them and help them stand up. The faces are just a circle, and can be as simple or as complex as you wish. (Steiner/Waldorf dolls tend to have no faces or very simple faces, so that children can project any emotion to the doll as they play. The doll with braids I made for my 10 year old, and she asked for a few more details!)
What I was thinking was that these arch shapes, with just a few details, can work as people in a lot of folktales: a red triangle on top of one face could make Red Riding Hood, or a bit of grey hair could be her grandmother. Instead of round people faces, you could make a triangle shape with pointy ears for a wolf, or an oval shape with round ears for a bear. I sewed the pieces together and embroidered their faces & flowers, but you could use glue and markers just as easily.
You could just make a one-layer shape to use on the flannel board, or glue or sew 2 layers together, for finger puppets. (I'd make a flannelboard piece or a finger puppet a little narrower than this doll.)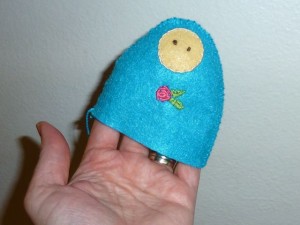 Making the stuffed dolls would be a fun thing to get out if you have free play time after storytime, or you could leave a Goldilocks or Three Pigs set out on a table in the children's room for families to use for open-ended play during their visit.
We are really fortunate at my library to be able to purchase a lot of wonderful toys for our Learning through Play time after storytime, and to keep out in our children's areas. I have been thinking lately, though, that I would love to also set out some handmade toys or play pieces, as a way to show parents that they don't have to spend a lot of money to provide their children with rich play experiences.
I will keep experimenting with these felt people shapes and report back, maybe with some patterns for you to use!
If you're curious, here are some of my inspirations for these little dolls:
Felt Toadstools from Twig and Toadstool (thanks Seth!)
Pebble Pouch Babies from Australian children's author Anna Branford
Futuregirl's posts about felt stuffies and other creations
Flannel Friday info:
The round up this week is on Katie's blog Story Time Secrets. Thanks Katie for taking this on over the holiday weekend!
Round up archives and host schedule is at So Tomorrow. Visually scan all the Flannel Friday posts at Pinterest. Talk about storytime and flannelboards at the Flannel Friday Facebook Page. Follow Flannel Friday on Twitter with the #flannelfriday hashtag. (You don't have to be on Twitter to check this out.) Last but not least, if you're a contributer, grab the blog button in the right hand menu here at Mel's Desk!