No, it's not Fall anymore. Yes, today is the Valentine Extravaganza for Flannel Friday. Yes, I'm posting this anyway because it's ready now and I don't want to wait till next year to share it!
A couple months ago I posted a Fall Baby Storytime Plan and I am finally getting around to sharing the pattern for the flannel set I made for it!
The set was designed to go with the book That Pup! by Lindsay Barrett George:

In this book, the puppy finds 10 acorns all over the yard, and then hides them again. I chose some of the hiding places from the book to make for this set, and we played hide & seek with the acorns in storytime.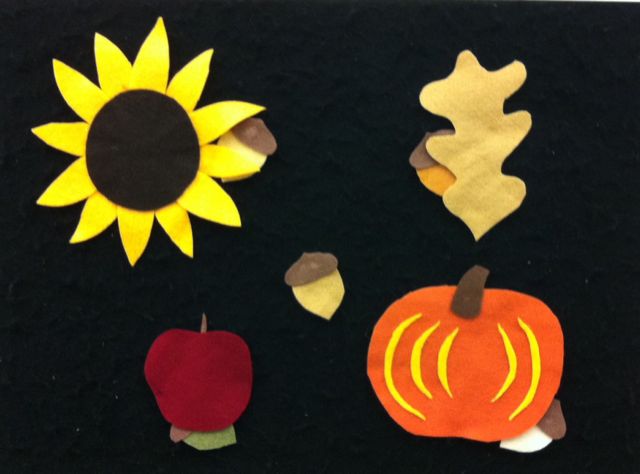 But you could do lots of things with this set even without pairing it with the book! You could just sing "10 Little Acorns," or recite "Five Little Acorns," like Katie does, or check out "The Squirrel Song" (scroll almost all the way down the page). Or you could make lots of acorns in all different colors and hide them around the room for kids to find, or do a sorting chart activity.
You could use all the shapes and talk about what things we eat and what we don't, or what squirrels or raccoons eat and what they don't. You could talk about big and little, or play a guess-what's-missing game.

Here is the pattern!
Note that some of the shapes are nested to save room on the pattern. Also, here's how I did the sunflower petals–first I glued 6 petals in one layer, then staggered the next 6 in a second layer.
Have fun!
The Round Up today is at Sarah's place!