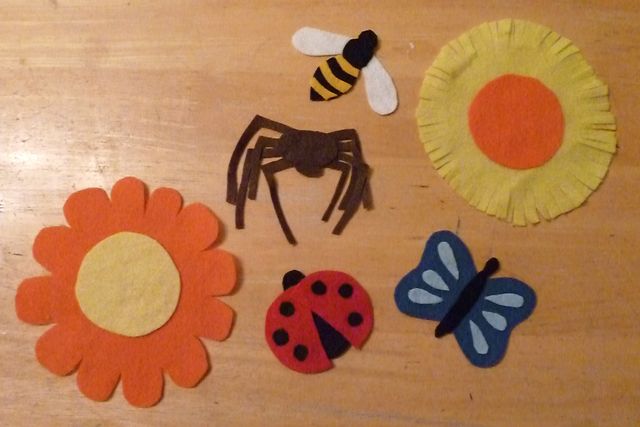 I made this flannelboard set to go along with the book Lenny in the Garden by one of my all-time favorite illustrators, Ken Wilson-Max.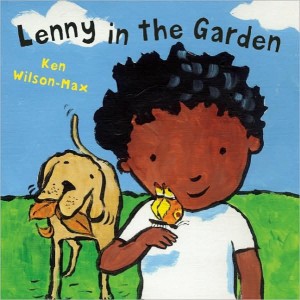 The book is sweet and simple and in each page Lenny looks for a new bug. After we read it in storytime, then we played hide-and-seek. I tucked a bug behind one of the flowers so that part of it was sticking out, and asked, "Where's the spider? Is the spider behind the orange flower?" The older toddlers in the group were so happy when they saw it for themselves! I also got out some of the leaves I made for the Where is Catkin set, and sometimes the bugs hid behind a leaf and sometimes a flower.
I do have a pattern for you! But my scanner isn't working at the moment. Hopefully by the end of the day I will be able to add the link!
Scanner is working! It was totally a PEBCAK* issue.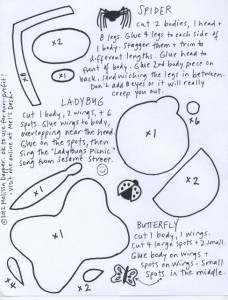 The PDF pattern includes the spider, the ladybug, and the butterfly. The bee came from this Microsoft Word clip art: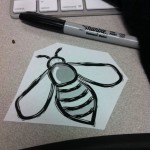 *Problem Exists Between Chair and Keyboard. ie, Me.
Here's your Flannel Friday information!
The marvelous Andrea has the round up at Roving Fiddlehead Kidlit.
Round up archives and host schedule is at So Tomorrow.
Visually scan all the Flannel Friday posts at Pinterest.
Talk about storytime and flannelboards at the Flannel Friday Facebook Page.
Follow Flannel Friday on Twitter with the #flannelfriday hashtag. (You don't have to be on Twitter to check this out.)
Last but not least, if you're a contributor, grab the blog button in the right hand menu here at Mel's Desk!