To celebrate heading in to YEAR FOUR of Flannel Friday, Anne at So Tomorrow is inviting us to look back over ONE HUNDRED AND FORTY SIX round ups and choose our favorites. O impossible task!
Well, I did have fun poking around in our archives for an hour or two, and I pulled out one old idea, one newer idea, and one of my ideas to revisit for today's party.
First, the old idea: Going way back to the first few months of Flannel Friday Round Ups, here's Where Does This Go? from Miss Mary Liberry.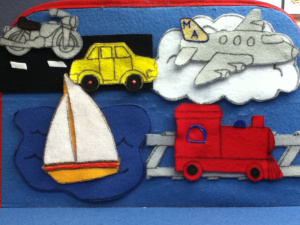 Here you show children four "places" and and then four types of transportation. Talking with the kids, decide which vehicle belongs in each place.
Reasons I love this:
You don't have to memorize a rhyme or song
You don't have to get the pieces up in any particular sequence
You encourage conversation and talking among the children
There's room for open-ended questions
Great vocabulary building
You are helping children think critically about properties and categories
Can be adapted to younger toddlers by having them identify the vehicle and then you put it on the board yourself
This can be easily expanded to include more types of transportation
It can be easily transferred to different categories (seasons, habitats, etc)
You can re-use the pieces for other transportation rhymes
You could adapt this for a crowd (eg, make bigger "places" and multiple, smaller vehicles, and have all the cars come up to the board at once)
It lends itself to a passive tabletop experience in the library (pretty clear to know what to "do" with these pieces without written or verbal instructions)
There's room to be as simple or as complex artistically as you want
Next, the new idea: The Groundhog Weather Game from Itsy Bitsy Mom, from January of this year.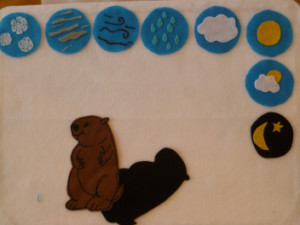 In this flannelboard you sing a song, spin a spinner to choose a type of weather, put the corresponding felt weather icon on the board, talk about what types of weather it represents, and decide if a groundhog would see her shadow in that type of weather.
Reasons I love this:
It hits every damn one of the five early literacy ECRR practices: Reading and writing (on the spinner), singing (the spinner song), talking (about the weather), playing (spinning the wheel and taking turns), PLUS pinging on background knowledge (characteristics of types of weather) and critical thinking (would you see a shadow in this weather?)
It was inspired by a previous Flannel Friday post
Anne also borrowed from a preschool education idea site and a craft blog and blended everything into something fresh
There's lots of room for adaptation: you could skip singing the song, or leave out the groundhog, or…
Can be adapted to younger toddlers by asking them if there is a sunshine on the icon (rather than if there are shadows in that weather)
Can be adapted for a crowd (multiple icons of each weather type)
You can reuse the pieces for a discussion activity with any book that has weather in it
The spinner takes a bit of construction but could be used for multiple programs/outreach activities
Read item #1 in this list again 🙂
Lastly, one Flannel Friday from Mel's Desk: The Shoo Fly Pipe Cleaner Puppets.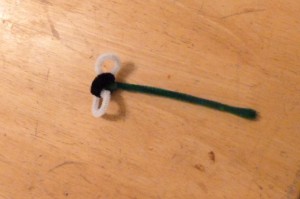 Reasons I love this:
They are inexpensive and easy to replace
They encourage eye-hand coordination
They promote active listening (giving children something to do with their bodies while they sing)
They are a nice change of pace from finger puppets or shakey eggs
They still make me smile!
Thanks everyone and happy birthday!