This is a fun one, and very simple. The impact comes from the flannel pieces more than the rhyme!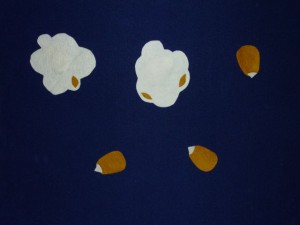 Five Little Kernels
Put up the five kernel shapes on the board, as spread out as you can. When you say POP! slap a white popcorn shape right on top of one of the kernels.

Five little kernels sizzling in the pot
All of a sudden, one went POP!

Four little kernels… etc.
I do a lot of laminated clip art for my "flannels" but I made this one in felt so that I could layer the kernels and the popped corn pieces on top of each other quickly, without worrying about getting Velcro dots in the right places.
Usually I put flannel pieces on and off the board from left to right, to help build awareness of print directionality, but with this rhyme I think it would be fun to pop on those popped pieces in a more random manner.
Here's the files! Thanks to my husband for the Photoshop kung fu that turned my scans into patterns! They will print out smaller if you print straight from your browser, but if you save to your computer and then print, they will print out a little bigger. Of course you can always adjust the size on your photocopier, too.