Earlier this week I posted about adapting stories to the flannelboard, and one of the examples I dug out of my files was a set for The Tortoise and the Hare, so today I'm sharing the pattern.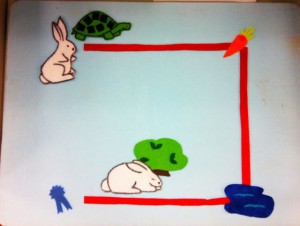 You can see I have red strips to make the path of the race course, which you can add or not (they're not in the pattern). In this version of the story, the tortoise and the hare start the race, and along the way the hare is distracted by a carrot, a cool puddle to splash in when he gets hot, and a shady bush he naps under when he's tired. The tortoise, of course, just keeps plugging along regardless.
Since with this board the animals move both from left to right at the beginning of the race and right to left at the end, I drew the black outlines (and glued black felt squares) to both sides of the felt pieces, so each animal could face both directions. The sleeping hare is just drawn on one side.
To make a shorter version of the story, just lay out one strip of felt for the race course, and use only the shady bush as a distraction.
I think I will work on a set for Three Billy Goats Gruff next!
The round up this week is on Anne's blog So Tomorrow. (If you have a contribution, leave a comment on her round up post with a link to your post. If you can't include it by the end of the day Friday, go ahead and wait to join next week's round up. This will make sure the most number of people see your post! If you are on Twitter, post your link, and use the #flannelfriday hashtag and also @sotomorrow)
Round up archives and host schedule is at So Tomorrow. Visually scan all the Flannel Friday posts at Pinterest. Talk about storytime and flannelboards at the Flannel Friday Facebook Page. Follow Flannel Friday on Twitter with the #flannelfriday hashtag. (You don't have to be on Twitter to check this out.) Last but not least, if you're a contributer, grab the blog button in the right hand menu here at Mel's Desk!