Yay for Friday! Yay for Tracey who is hosting Flannel Friday over at her blog 1234 More Storytimes!
Just like last week's oak leaves, this week's post was inspired by our Flannelboard Inspiration board on Pinterest. I have seen some darling finger puppets there, and wanted to try my hand at making my own.
I like to make sure that there are plenty of non-spooky options in our Halloween storytime packs, and the old fingerplay Two Little Blackbirds seemed like a good fit.
Two little blackbirds sitting on a wall
One named Peter, one named Paul
Fly away Peter! Fly away Paul!
Come back Peter! Come back Paul!
If you've never run across this one before, it goes a lot like "Where Is Thumbkin?" Start with your index fingers up in front of you, and wiggle one when you say Peter, and the other when you say Paul. Tuck your hands one by one behind your back as you say, "Fly away Peter! Fly away Paul!" and bring them back out one by one in front of you at the last line.
Here's the little birds I made!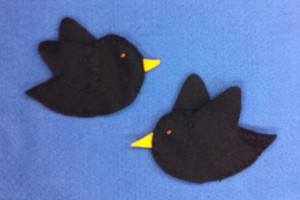 Now I'm sure I'm not the first person to think of adapting this to "Two Little Black Bats." Here's my version:
Two little black bats hanging in a cave
One named Dana, one named Dave
Fly away Dana! Fly away Dave!
Come back Dana! Come back Dave!
(My 10 year old daughter was having fun thinking of girl names that start with D. Some of her favorites were Demorna and Demetria. You go ahead and choose YOUR favorite for the rhyme!)
Here's the bats:
It wasn't until I finished stitching that I remembered my genius idea, which was to make the hole for the fingers be at the bats' HEADS instead of their feet. That way when I wore the puppets, the bats would be upside down! Oh, well, maybe next time.
The shapes for both puppets are pretty simple, but I went ahead and made a printable pattern for you to use. And of course you could just make these as flannel pieces instead of finger puppets!
Blackbird and Bat Finger Puppet Pattern