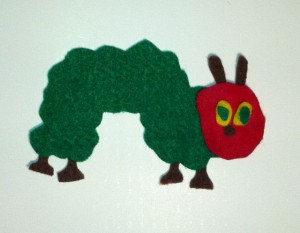 I did not have a Flannel Friday idea until about 9:30pm last night, so three cheers for last-minute inspiration from brilliant colleagues!
Yesterday we had one of our Storytime Practicums at my library, where storytime providers from all over the district may request time to attend a mini-training and sharing & inspiration session. We meet 3 times a year and I am always so amazed and grateful for the fellowship, conversations, and for all the fresh ideas.
My colleague Jan showed us how she started with the familiar Miss Mouse, Miss Mouse, Are You in the Red House flannelboard activity. She would use a flannel mouse that fit entirely behind the house shape and would name each color house as she went along. She realized, though, that of course babies and young toddlers don't know their colors yet, and then had the idea to adapt the activity for this age group by making a much larger mouse. This way when she tucks the mouse behind a house, parts of the mouse's ears and tail and feet stick out–which creates a much more developmentally appropriate visual challenge for the young toddlers.
LOVE.
One of the flannels that I have been planning to make and use next month was a Very Hungry Caterpillar set. I thought I'd make the five fruits that the caterpillar nibbles through, and after I read the book we could sing Down Around the Corner and go to a fruit stand. When I got out the book to start making the patterns, though, I realized that I could make a Very Hungry Caterpillar version of Jan's idea!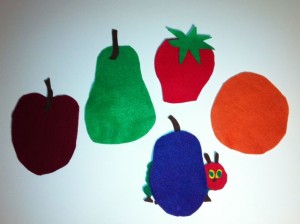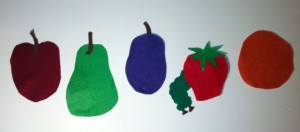 Okay, so HOW CUTE is this? I can't wait to use this with my babies.
Here's some notes:
The pear is six inches top to bottom not counting the stem; the VHC is about 3×5. I traced a shape for each type of fruit from the illustrations, then enlarged them on the photocopier.
The great thing about this flannel is that you shouldn't be perfect if you want to capture the cut-paper feel of Eric Carle's art.
To make the VHC body, I cut a green rectangle the size I wanted the body to be, then started cutting away the parts I didn't want, but you could also trace an illustration to make a pattern as well.
The eyes actually took longer than the body to get right–I cut several sizes of yellow eyes and green pupils until I was satisfied.
My real camera's battery was dead so I used my phone to take these pictures, and the color does not look as cheery as it does in real life. The apple especially should look like it's a nice dark red instead of as if it were rotting on the tree!
I could make a leaf, a cocoon, and a butterfly and use all these pieces to tell an abbreviated version of the story.
Thank you, Jan!
AND I learned this week that the inspiration for last week's Flannel Friday was developed, created, and added to our Build It storytime kit by my colleague Julie! Julie's the one who shared her shoebox-and-clothespin Storybox idea with us this past summer. Thank you, Julie!
Flannel Friday info is below.
The round up this week is on Cate's blog Storytiming. Cate is asking for folks to add their link to her wall post on the Flannel Friday Facebook page until she can get the round up post live on her blog later today. If you are not on Facebook but would like to participate, you can leave your link in the comments of THIS post and I will make sure she gets your contribution! If you are on Twitter, post your link, and use the #flannelfriday hashtag and also @storytimingcate.
Round up archives and host schedule is at So Tomorrow. Visually scan all the Flannel Friday posts at Pinterest. Talk about storytime and flannelboards at the Flannel Friday Facebook Page. Follow Flannel Friday on Twitter with the #flannelfriday hashtag. (You don't have to be on Twitter to check this out.) Last but not least, if you're a contributer, grab the blog button in the right hand menu here at Mel's Desk!