Or, In Which I Go A Little Overboard But Have a Really Good Time!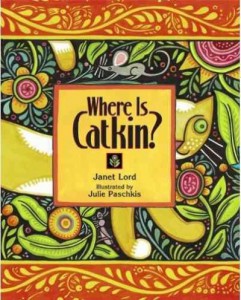 I'm going to try Where Is Catkin? by Janet Lord in my Pets baby storytime this fall, less because I think it's a great book for storytime (it has lots of details my babies won't necessarily be able to see much of across the room), but because I love it so much I want the grown-ups to know about it. I think it makes a great story to share one-on-one, even with toddlers, since the colors are so rich and the details and hidden animals are not too hard to spot, especially with a little direction.
I usually sing a pet store version of "Down Around the Corner" for this storytime, and thought it would be fun to sing it with some of the different animals in the book. Having decided that, I wanted to use Paschkis' marvelous illustrations as my patterns. Once I had all the colored felt in front of me, I decided I could use a little craft project for the week, and so I got out my needle and thread to make the black outlines instead of a Sharpie (which is what I typically use).
So the project snowballed a bit, but I'm super happy with how it turned out.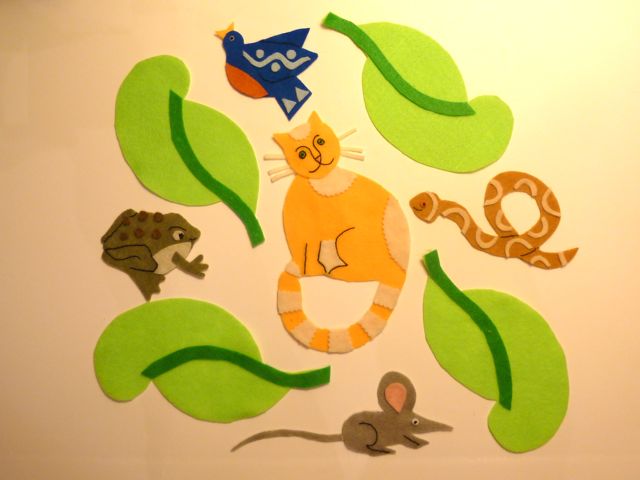 There's a few things you can do with a set like this! I mentioned "Down Around the Corner," but you could also sing, "One little cat went out to play / In a meadow one fine day / She had such enormous fun / that she called for another animal to come." Sing it to "Five Little Ducks Went Out To Play."
You could also play I Spy, since in the book Catkin is on the hunt for all the other animals. You could tuck the smaller animals behind the leaves, with just a little bit showing, like this: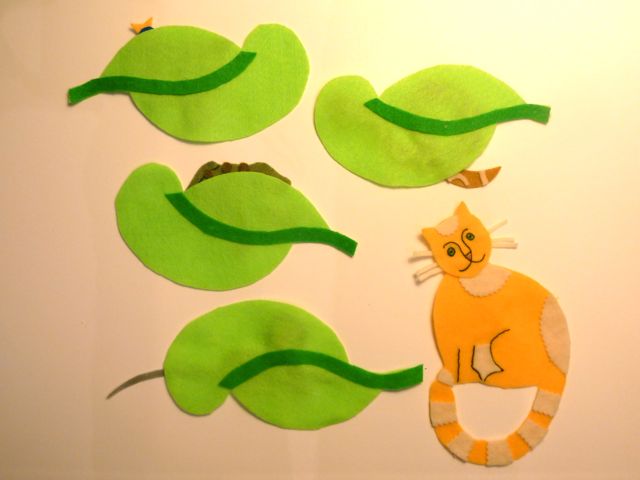 And then say, "Catkin is looking for a frog! Where's the frog?" And see if the kids can guess which leaf is hiding the frog just from the little bit that is peeking out. With younger kids, you could hide the animals completely behind the leaves, and say, "Catkin is looking for the mouse! Is the mouse behind THIS leaf? No! This is the…snake!"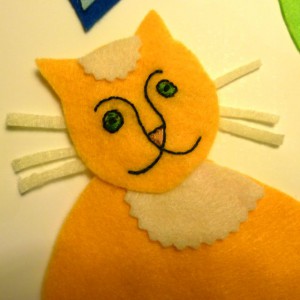 The round up this week is on Tracey's blog 1234 More Storytimes. (If you have a contribution, leave a comment on her round up post with a link to your post. If you can't include it by the end of the day Friday, go ahead and wait to join next week's round up. This will make sure the most number of people see your post!)
Round up archives and host schedule is at So Tomorrow. Visually scan all the Flannel Friday posts at Pinterest. Talk about storytime and flannelboards at the Flannel Friday Facebook Page. Follow Flannel Friday on Twitter with the #flannelfriday hashtag. (You don't have to be on Twitter to check this out.) Last but not least, if you're a contributer, grab the blog button in the right hand menu here at Mel's Desk!
Have a great week!