I had a chance to do an outreach storytime visit to a local kindergarten this week. For their silent auction fundraiser every year, this school asks if they can put a storytime on the auction list! Every year we say yes! The family that wins the bid gets to schedule a storytime just for them and their friends at the library. This year, the family who won donated the storytime to their daughter's kindergarten room. Next week the class is going to the zoo, so they requested some zoo stories.
It's always fun to plan a longer storytime for older kids. This is what I did!
BOOK: Be Nice To Spiders by Margaret Bloy Graham.
(Totally one of my favorite books from when I was little.)
SONG: Over at the Zoo
(This I adapted from Grandpa's Farm. I used some of the animals from the Polar Bear Polar Bear flannel kit from Lakeshore, and adapted the words like this:
We're on our way, we're on our way
On our way to see the zoo
We're on our way, we're on our way
On our way to see the zoo
Over at the zoo there is a polar bear
Over at the zoo there ia a polar bear
That bear, she makes a noise like this:
Growl, growl!
That bear, she makes a noise like this:
Growl, growl!
The other animals I used were:
Boa Constrictor…ssss
Big strong lion…roar
Black & white zebra…yi yi yi (Have you actually heard one? It's weird!)
Elephant…brrrrr
TELL: Draw & Tell Elephant story
from Tell & Draw Stories by Margaret Olson, 1963. This is one of those books that has been in our children's workroom forever. In this story, two boys go to a zoo and you wind up drawing an elephant. It's pretty cute.
MOVE: Elephant Goes Like This
The elephant goes like this like that
clasp & swing hands in front like a trunk
He's terrible big
hold arms out to sides
and terrible fat
puff out cheeks
He has no fingers he has no toes
wiggle fingers and toes
But goodness gracious! What a nose!
mime trunk
SONG: I Came to the Zoo
(Sing to My Bonnie Lies Over the Ocean. I had the kids raise & lower their arms when they heard an animal name…so hands up at "lions" and hands down at "elephants" and hands up again at "tigers"…We did it once, then again super fast. Lots of giggles.)
I came to the zoo to see lions,
Elephants, tigers, and bears.
I came to the zoo to see zebras.
I love all the animals there!
Lions, tigers,
Elephants, zebras, and bears,
And bears!
Lions, tigers,
Elephants, zebras, and bears!
BOOK: Move! by Steve Jenkins
"Now that we've read about how animals move, are you guys ready to move, too?"
BOOK: From Head to Toe, by Eric Carle
(At the end, go back and look again at crocodile and monkey pictures.)
SONG: 5 Little Monkeys Sitting in a Tree
5 little monkeys sitting in a tree
hold up five fingers
Teasing Mr. Alligator, "Can't catch me!"
put thumbs in ears and waggle fingers
Along came the alligator quiet as can be
put palms together like an alligator mouth and weave back & forth
And SNATCHED that monkey right out of the tree!
open palms wide and clap loudly on "snatched"
(You can do "scared" instead of "snatched" if you have some tender hearts in your audience.)
BOOK: Goodnight Gorilla, by Peggy Rathmann
CRAFT: Noisy Oval Animals
The teachers requested an activity or craft that incorporated writing, since that was something they had been working on with the kids.
So I cut out a bunch of ovals for animal bodies, in different animal-y colors like green, black, white, tan, orange, and pink. I cut "zoo signs" and word bubbles.
I told the kids we were going to work with cut paper, like Eric Carle and Steve Jenkins, and use word bubbles just like Peggy Rathmann. I showed the ovals to the kids and we talked about what animals each color could be. Then we talked about how the ovals didn't have legs, arms, heads, or stripes or spots. I said it was their job to dream up an animal, draw whatever that animal needed, write the name of the animal on the zoo sign, and think of something for the animal to say and write that in the word bubble. It could be "Roar!" or it could be "Good Night" or it could be something silly. My daughter made a sample for me and her penguin said, "Like my new tuxedo?"
Sorry for the blurry pics, I was using my phone!
This flamingo says, "Do I need skinny legs?"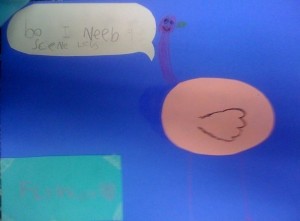 And this horse says, "Ta-dah! I made some spots!"