I am so proud and happy to announce that I have been named one of Library Journal's 2013 class of Movers & Shakers. Congratulations to everyone on this year's list; it is an honor to be recognized with you.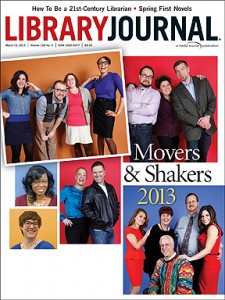 To my amazing coworkers and fabulous boss, I am humbled by your nomination of me for this award. It is an ongoing privilege to work with and be inspired by each of you!
I am deeply grateful as well to my library district, which for 10 years has shown faith in me by giving me compelling projects to develop in-house–as well as the time and support necessary to serve and contribute to the wider local, state, and national library communities.
Beyond that, I owe a million thanks to so many mentors, librarians, supervisors, students, directors, and coworkers, at my home library and at other libraries; to my husband and my girls and extended family; to my storytime families past and present; to those of you who read and contribute here at Mel's Desk; and to colleagues across the state and around the world. How lucky I am that you love learning & sharing as much as I do. I have been so fortunate to have worked on so many cool projects with so many amazing people. You teach me so much, you expand my horizons, and your own high standards challenge me to keep raising the bar for myself. It's been so much fun so far. I can't wait to see what else we accomplish!