With a big hat tip to Annie at So Tomorrow, who has conducted a reader survey for her blog the past couple of years, I am launching one of my own!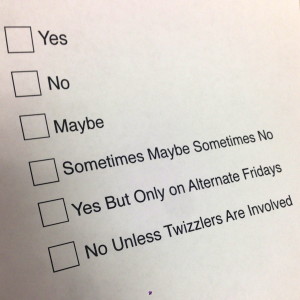 Mel's Desk is coming up on its fifth anniversary this spring and it is trite-but-true to say how much has changed in those five years. At work, my job responsibilities have changed a couple of times and my professional interests have become even more focused on [spoiler alert!] early literacy. Outside of my library, the online network of children's librarians has grown rampantly and, not coincidentally, the number of cool projects I've been able to be involved with & learn from has also increased.
Here on the blog, I've transitioned through several interests as well, originally posting more program and storytime plans, then concentrating on Flannel Friday contributions, and most recently sharing literacy-based storytime ideas and best practices.
I still have lots of ideas and am still excited about writing for Mel's Desk, but especially interested in how continuing this blog can be a valuable process for both me and my readers. As a result I am really curious about what you have to say–what types of posts have most resonated with you, what topics have been most helpful, and, now that there are so many more smart children's librarian bloggers in action than there were five years ago, where are the gaps? What would you like to see addressed?
Thanks for being on this journey with me, whether it's been five months or five years.
Here's the link to the survey. Thank you!