What are the Bell Awards? Well, don't worry if you don't know yet because I will be talking about them a lot for the rest of the year!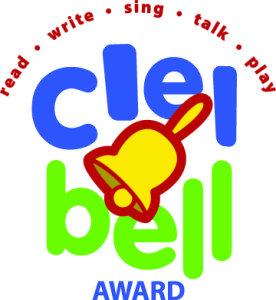 The CLEL Bell Awards are a brand-new recognition of picture books that support early literacy development in young children–by modeling or incorporating the five practices of reading, writing, singing, talking, playing. One title will be selected for each category, five books in all every year. Our first winners will be announced February 5, 2014…but we've got lots going on before then!
OPEN NOMINATIONS
One of our goals is to foster conversation, sharing, and learning about great early literacy titles for young children all year long; not just when the awards are announced. To that end, our nominations process is open–anyone can suggest a book. This means you! This means right now! You can check out the selection criteria to see what type of books to suggest, then look at the titles that have been nominated so far. And then nominate a book you've fallen in love with this year. We can't wait to see them!
YEAR-ROUND CONVERSATIONS
But wait, there's more! Every week on the CLEL blog we're highlighting one of the recently nominated titles and asking for your feedback. We want to hear if you've used the book in storytime, if it went well, if you have any ideas for extending the book experience for a program or classroom or outreach effort. These comments inform the selection committee, of course, and help them in their considerations–but they also inform your colleagues, and allow us to help each other think critically about early literacy practices, and think practically about how to best use these books in our collections and programs and services.
We're working on gathering momentum around these discussions and need your help! Here's the titles we've blogged so far this year. Which of them have you read? Please click through to those blog posts and add your voice in the comments!
Again! by Emily Gravett
That Is Not a Good Idea! by Mo Willems
Sing by Joe Raposo and Tom Lichtenheld
Exclamation Mark by Amy Krouse Rosenthal and Tom Lichtenheld
Tiger in My Soup by Kashmira Sheth and Jeffery Ebbeler
Open Very Carefully: A Book with Bite by Nick Bromley and Nicola O'Byrne
The Day the Crayons Quit by Drew Daywalt and Oliver Jeffers
Tea Rex by Molly Idle
Have You Seen My New Blue Socks? by Eve Bunting and Sergio Ruzzier
And last but not least…
AN INTRODUCTORY WEBINAR
We're very excited about this project and the possibilities the award and blog and future support materials can provide for assisting our library and teacher training, community outreach efforts, parent education, and storytime and preschool program planning.
To help us spread the word, the Colorado State Library is graciously hosting a webinar introducing the Bells on September 19, 12pm Mountain Time. The webinar is free and you are welcome to join us and find out more…including the 25 books on our Silver Bell list of honor titles from the last 25 years. Have we chosen some of your favorites? To join, follow this link on September 19.
And thank you!
(OK, I promise to use fewer exclamation points next time.)