I have another Storytime Paper Towel Tube Song Prop Thingy to share! The last one was for 5 Green and Speckled Frogs, and ever since I found this 5 Little Nails rhyme in our Build It storytime resource pack, I knew I wanted to make a prop for it, too.
Five Little Nails

Five little nails, standing straight and steady.
Here I come with my hammer ready!
Bam Bam Bam! That nail goes down.
Now there's just four nails to pound.
Obviously you can do this as a fingerplay, with your five fingers standing up as the nails, and your fist gently bouncing off the top of your fingers one by one as you bang them down.
But I finally made it into a prop! I spent a little time waffling on whether to use a photo image or not for the nails, but I didn't find one I liked in free clip art and taking my own photo and editing turned out to be too much of a hassle. In the end I just cut construction paper shapes and I think it looks just great.
Check out the earlier post for step-by-step instructions, or check out "tube stories" in some of the Irving/Currie storytime idea books for more info. (Be careful Googling, though, my dears, I didn't find any other examples online and apparently "tube stories" is a little NSFW!)
Here's the prop in process. I just cut nail shapes out of gray construction paper, then used a dark gray colored pencil to add a little shadow on the point of the nail, and a little shadow under the rim of the nailhead. The wood grain paper is a leftover from my stay-at-home-mom scrapbooking days. I took a quick look at Michael's to see what was currently available, and didn't see any as nice as this, but a scrapbooking store like Archiver's might have some better choices. Of course you can just do brown construction paper, or do brown kraft paper and add your own "grain" lines with colored pencil. I really like how the patterned paper looks, though!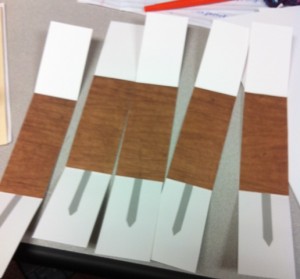 And in post-op: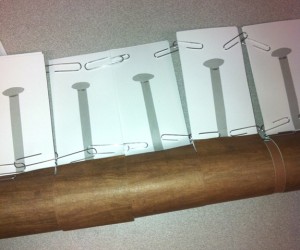 Here's the finished piece, with all the nails up: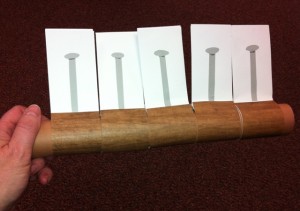 And with some of them down: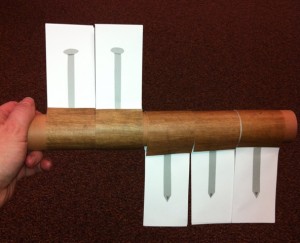 Here's your Flannel Friday rundown for the week:
Mrs D is hosting this week, I believe for the very first time (yay!), at putting smiles on faces.
Don't forget we are taking a winter break and there will be NO Flannel Friday round ups on the 23rd or the 30th!
Round up archives and host schedule is at So Tomorrow.
Visually scan all the Flannel Friday posts at Pinterest.
Talk about storytime and flannelboards at the Flannel Friday Facebook Page.
Follow Flannel Friday on Twitter with the #flannelfriday hashtag. (You don't have to be on Twitter to check this out.)
Last but not least, if you're a contributer, grab the blog button in the right hand menu here at Mel's Desk!