Yes, I do occasionally get to do Preschool Storytimes!
OPENING SONG: Good Morning
I adapted this from Greg & Steve's fabulous "Good Morning Song."
Good morning, good morning, good morning to you
Good morning, good morning, good morning to you
It's time for our stories, there's so much to do
Good morning, good morning, good morning to you.
BOOK: Those Messy Hempels by LUCIANI
The Hempels want to make a cake, but can't find their wisk. They decide to clean the whole house to search it out, and find lots of other things in the wrong places.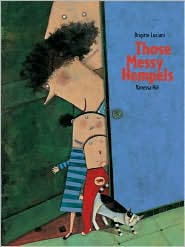 ACTIVITY: The Big Tidy Up
I was reminded of the Hempels book and found this great activity idea on librarian and author Susan M Dailey's "Cleaning Up Storytime" page. (Lots of ideas here!) Here's how my board ended up. I made flannels of clip art photos of toys, tools, clothes, and food, and put them all up at once on the flannelboard. The idea was that we tidied up all the objects into the right storage spot–those would be the envelopes with photos of a toy chest, tool box, dresser, and fridge. We spent a lot of time on this activity, which is great. We talked a LOT! I asked them questions like, "What does a refrigerator do?" and "When do you use a hammer?" to get them to open up and use their great vocabularies. It is also fun to be silly. "I think we should put the carrots in the tool box. They are long and skinny like a ruler. No? Are you SURE they go in the fridge? OK then, here they go!"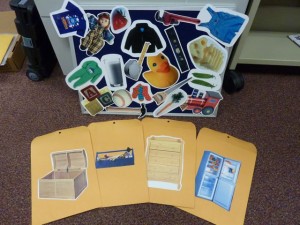 BOOK: 10 Dirty Pigs/10 Clean Pigs by ROTH
Short and sweet and you turn the book upside down to read the second half! Win!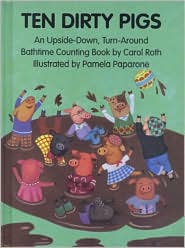 FLANNEL SONG: 5 Clean and Squeaky Pigs
Sing this to: 5 Green and Speckled Frogs. When I finished this song, one of the boys turned to his teacher and said, "That sounded like the frog song!" I said, "Good noticing!"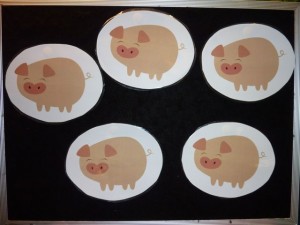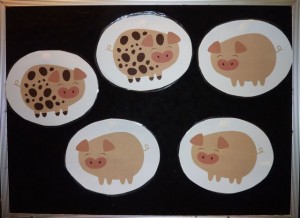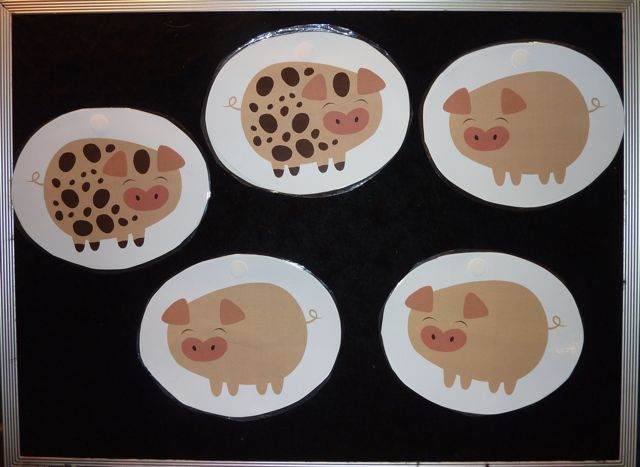 Five pigs so squeaky clean
Cleanest you've ever seen
Wanted to go outside and play
Oink! Oink!
One jumped into the mud
Landed with a big THUD
Then there were four clean squeaky pigs.
I was ready to have everyone stand up and sing "Shake Your Sillies Out" but this group did not have the wiggles, so we went straight on to the next book!
BOOK: Pete the Cat by LITWIN
Yay for Pete! After we got to the brown shoes, one of the boys said, "I like that song." Me, too!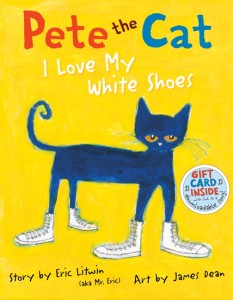 FLANNEL SONG: Down Around the Corner
I sing this all the time. We go everywhere and buy everything! I made a flannel set of 5 photos of different colored Chuck Taylors. Not only do they look a little like Pete's shoes, but it's an in-joke for my regular storytime families, because they see me wearing Chuckie Ts almost all the time! I will add the photo when I take one!
Down around the corner at the neighborhood shop
Were five bright sneakers with their laces on top
Along came someone with a nickel to pay
And they bought the red sneaker and they took it away!
When I used to do Preschool Storytimes regularly, I would always talk about the craft instead of singing a closing song. Now I'm really wishing I had a great song to end storytime with. What's your favorite?