Last time I made a homemade big book for storytime I was a little overwhelmed by how long it took me to finish, though I loved the finished product!
So I was very excited with my latest idea, which went MUCH QUICKER. Hooray!
Here's what I did:
I wanted to share a few pages of a basic alphabet book with my baby storytime families, to show them what a good beginning ABC book looks like, and also how you don't have to read every page with the very little ones. But the ones I like to use best with the babies, John Burmingham's ABC and Brian Wildsmith's ABC, have finally given up the ghost and been weeded out of my library.
I like these two classics because they are so very, very basic: Just a very clear letter shape, and one picture to go with. Nothing fancy!
So without my old standbys, I had the idea to make my own very, very basic ABC book…with just four letters in it!
I started by taking some photos of my storytime area. I took a photo of my chair, all set up for storytime, the shelves where the board books are displayed, some pictures on the flannelboard, and the toys we play with after storytime.
I used 12×18 cardstock cut to 12×15 for the pages and printed out the pictures as 8x10s.
For the letters, I chose an Ariel font and sized it to about 600…this gave me one large letter per page. I cut out the letter shape, and traced it onto construction paper and cut it out.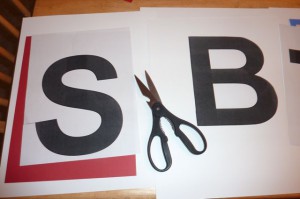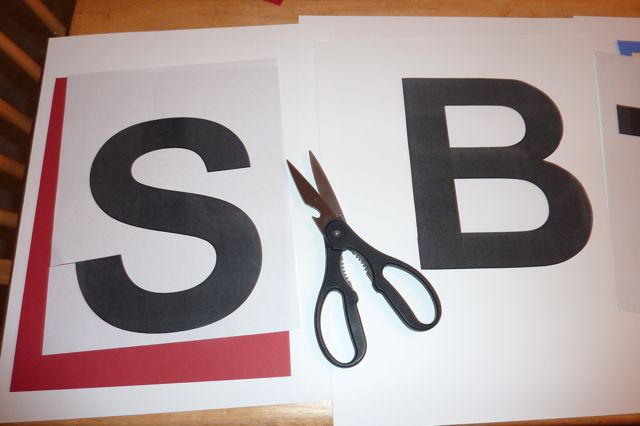 After my last book I swore I wasn't going to cut out individual letters again for the text, and I didn't! Once I decided what color paper went with each photo, I typed up the text of each page in Century Gothic, bolded, in font size 100. I changed the color of the words to match their page, and printed it out. Then all I had to do was trim around the text and glue it down!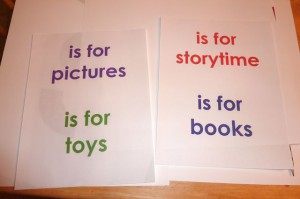 Here are the finished pages:
That's it! I ran the pages through our Xyron laminator, punched holes in the edges, and "bound" the book with binder rings.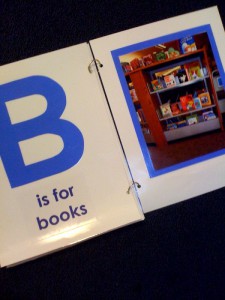 The whole thing took 2 hours, start to finish, including printing out the photos, putting my girls to bed AND switching some loads of laundry, but not counting the laminating and binder rings. Much quicker than the last one!
Other letters you could add might be L for Library, with a picture of the front of your building, or the first letter of your name, along with a picture of you! P could be for Puppets, if you use them often, or D could be for Door, if you have a special entryway into your storytime room.
This might be a fun thing to get out at the end of every storytime and let the little ones look at during our play time!