So I talked a little last week about why I'm so hooked on clip art for my flannelboards, but I wanted to give equal time to felt! Here's my list of why I like to use felt for flannelboards, too.
Layering Pieces
To make the laminated clip art stick to the board, I need to use Velcro sticky dots on the backs, and most of the time this works just fine. For some rhymes, though, I want to be able to hide one piece behind another piece very easily, without worrying about lining up the Velcro dots. Felt is perfect for this, because everything sticks to everything else.
Good examples of this are the popcorn shapes, where I slap the popped corn on top of the kernel, and the duckling hiding behind the egg shell: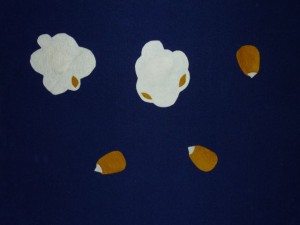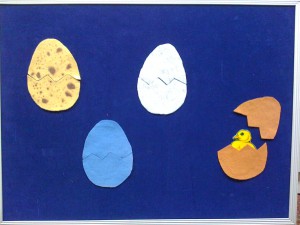 Using Both Sides
While I have made a two-sided set of clip art for the Clean and Dirty Pigs, most of the time when I want to use both sides of the flannel piece, it's easier to use felt. Both sides will stick to the board without any fuss.
My Summer Shapes set is like that: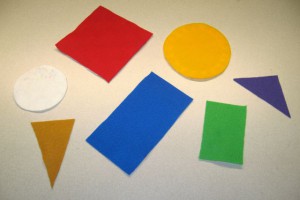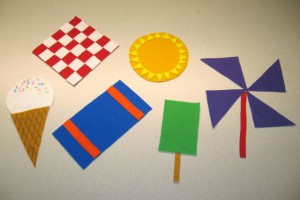 Simple is Best
For some flannelboard sets, the simpler the better. When all I need is shapes without much detail, I love using felt. I think the visual impact of the solid colors on the solid background of the board is really strong.
Here's the set for "My Big Blue Boat."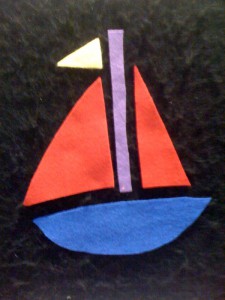 Visual & Tactile Interest
Most of our kids spend a lot of time in front of computer screens, game console screens, TVs, looking at images that are flashy and slick. I love that felt pieces give them something completely different to look at and think about. When we spend the time to layer our felt pieces with multiple shapes and colors, there's a real tactile element to the pieces, too. I also like the subtle message to grownups that activities don't have to be plugged in and souped up to hold our children's attention.
Cost
While I need to purchase a list of materials for my clip art images, all I need for felt shapes is the felt and glue, and sometimes some floss or thread.
Artsy Craftsy
This reason doesn't have much to do with storytime or with presentation, but it's a real reason nonetheless: I like to do crafts. I like needlework, sewing, papercrafts, and I like learning new techniques. I spend a good amount of time on my clip art images, changing the colors, changing the shapes, making them look just the way I want, and that's satisfying, but it's not the same as making something with my hands. I really enjoy getting out the felt and scissors and needles and thread and glue and patterns to make something for storytime…I just like making stuff. I even liked sewing on all the little seeds onto my strawberries!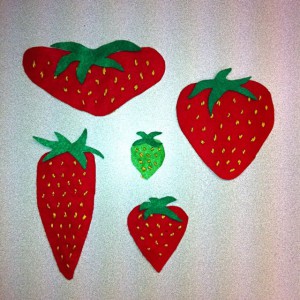 What materials do you use for your flannelboard sets? Why do you like them? Let us know!