For the last year or so, I've had the privilege of serving on The Children & Technology Committee of the ALA's Association for Library Service to Children. One of our projects currently is running an online "book club" in ALA Connect, an online community area for ALA committees, but also anyone interested in library work and issues. Our book club is reading and discussing Lisa Guernsey's important book, "Screen Time: How Electronic Media – From Baby Videos to Educational Software – Affects Your Young Child."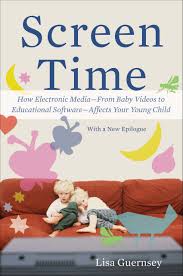 For those of you new to ALA Connect, you do not need to log into ALA Connect in order to see details of the book club. You will, however, have to create an account and log in if you are interested in participating in discussion. But you do not need to be an ALA member to create an ALA Connect account.
Each week, Andrea Vernola and I are adding a post to the Children & Technology Interest Group in Connect. The post will contain discussion questions and conversation starters for one or two chapters of Lisa's book. Read or re-read along with us and connect with other library staff who are interested in learning about digital media, children's development, and ways to help patrons navigate 21st century parenting. Comment on the posts in Connect and ask your own questions of other book club participants!
This week we're looking at Chapters 2 and 3: Is TV Turning My Tot into a Zombie? and Could My Child Learn from Baby Videos?
Come join us!