Happy Thanksgiving!
I am so grateful for all of you. I appreciate the time you spend here at Mel's Desk & the thoughtful comments you share. Thank you!
Usually for Thanksgiving week storytimes I pull out my Food theme, but I was ready for a change. I wondered if I could put together a "Thanks and Giving" storytime instead, focusing on gratitude rather than yummy things to eat. It would be my thank you to my storytime families for giving me some of my best mornings!
So I started looking for books. I didn't want turkeys, I didn't want Pilgrims, and I was hoping not to focus on gifts and presents if possible. I just wanted some storytime books about saying "Thank you," and maybe about sharing. These are the ones I found!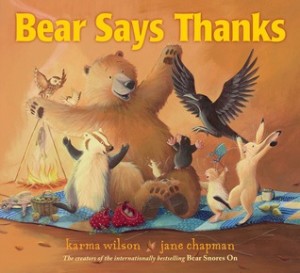 Bear Says Thanks, by Karma Wilson
Good Old Bear. Everyone brings a little something to eat to Bear's party, but Bear doesn't have anything to offer in return! Oh wait, yes, he does–he can tell stories. A nice reminder that we all share in different ways. My friend Susan, noticing Mouse's mouse-sized pie, added, "And that it isn't about HOW MUCH we bring!"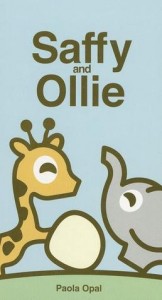 Saffy and Ollie, by Paola Opal
Such a short story, just right for young toddlers, but there's a lot of feelings here to talk about! Saffy is having a good time playing with her rock, and does NOT let Ollie play with her. But then her rock gets stuck in a hole and she can't get it out! Ollie helps her out even though she wasn't nice to him. Wow!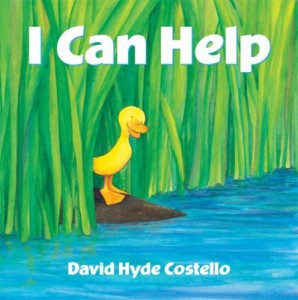 I Can Help, by David Costello
I have been using this book in my baby storytime every chance I get for the last 2 years. Baby Duck gets lost…but "I can help!" says Monkey. "Thank you, Monkey!" Oh no! Monkey falls out of her tree! "I can help!" says Giraffe. "Thank you, Giraffe!" Each animal needs help, then turns around and helps another, saying "Thank you" every single time. The book comes around full circle to Duck, who gets her turn to help, too.
Day by Day, by Susan Gal
A new one this year, and a lovely exploration of a pig family who works together to set up a new house, plant a garden, and join a caring and sharing community. Gentle, repetitive text and illustrations that portray all the things they have to be grateful for: a bountiful harvest, a cozy home, new friends.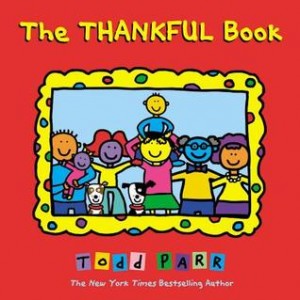 The Thankful Book, by Todd Parr
Todd Parr is so awesome, just looking at the covers of his books makes me happy. This is a list of things that he is grateful for, such as libraries (!) and his hair and music. What I appreciate is that he gives very specific reasons why he is thankful for each thing. "I am thankful for my feet because they help me run and play."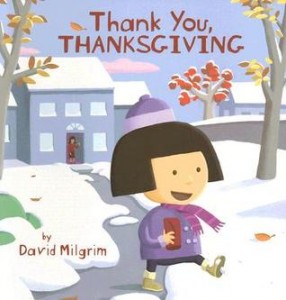 Thank You, Thanksgiving, by David Milgrim
This is the only specifically "Thanksgiving" book on this list, but I was totally charmed by it. Thank you to @LibrarianMarian for the tip! A young girl is given the job of running to the store after Thanksgiving dinner, in order to buy some cream so they can make whipped cream for the pumpkin pie. The whole text is a litany of the things she says "Thank you" to along the way: "Thank you, warm boots; Thank you, general store." A good reminder that we are always surrounded by things, big and little, to be thankful for.
I used Saffy & Ollie and I Can Help in my storytime (the plan will be posted soon!).
What books would you add to this list?