We did this storytime last Monday to start off Thanksgiving week. Thank you, babies! I am so grateful I get to spend time with you and watch you grow from wee little peanuts to walking, talking superstars. You keep me centered on why I do what I do!
OPENING SONG: Hello Song*
OPENING FINGERPLAY: Open Them Shut Them*
BOOK: I Can Help by COSTELLO
Each animal needs help; each animal pays it forward and helps another. Perfect.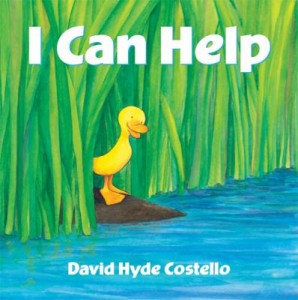 ACTIVITY: Where Is Thumbkin?
I chose this one because I realized that it has the words, "Thank you!" With the babies, I just do thumbs, pointers, and pinkies.
Where is Thumbkin, where is Thumbkin?
Here I am, here I am,
How are you today, Friend?
Very well, I thank you.
Run and hide, run and hide.
ACTION SONG: The More We Get Together
I've sung this a million times and it still makes me happy.
The more we get together, together, together
The more we get together, the happier we'll be.
'Cause my friends are your friends and your friends are my friends
The more we get together, the happier we'll be.

The more we sing together, together, together
The more we sing together, the happier we'll be.
'Cause my songs are your songs and your songs are my songs
The more we sing together, the happier we'll be.
FLANNEL SONG: A Hunting We Will Go*
I used rhymes that included things I was grateful for: a house, swings, cake, and a red wagon to represent all the fun songs I like to sing in storytime!
BOOK: Saffy and Ollie by OPAL
We can be nice to others even when they aren't always nice to us. Wow!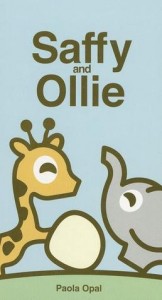 ACTIVITY: Please and Thank You
This activity was inspired by this video, which was shared with me by @Library_Quine on Twitter. Rather than sing this song, I handed out a small stuffed animal to each parent & child, saying to each one, "Would you like a stuffed animal?" Then saying, "You're welcome!" when they accepted it. I told the parents to pass the toy back and forth with their toddlers, saying, "Please," and "Thank you," and "You're welcome," as appropriate. I had the parents of the infants ask the toy if they wanted a hug, and then had them ask the toy for a hug–or asking their babies if they wanted a kiss–again, saying "Please," and "Thank you."
SONG: Thanks a Lot, by Raffi
This activity was suggested by @LibraryLady61 on Twitter. (Thank you, tweeps! I am so grateful for your generosity and willingness to share and brainstorm!) She said she saw Raffi perform this song, and he suggested that parents and children sit quietly and listen, rocking and hugging. That's what we did! I played the song, and had the parents hold the babies and the babies hold their stuffed toys from the last activity. While we sat together, I put felt shapes on the flannelboard to represent each verse. The pattern will be coming to a future Flannel Friday!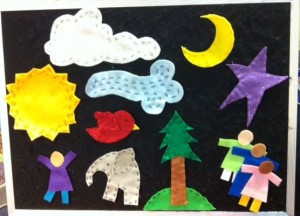 LITERACY TIP: Warm Fuzzies
Grownups, that was a quiet song! We are usually a lot more bouncy and active in baby storytime, aren't we? When we are warm, and fed, and snuggled with someone we love, our brains release serotonin. This makes us feel good, but it also has the effect of helping us learn. When you snuggle with your child and sing and read together, their brains soak up the language they hear and the serotonin helps make that learning permanent. Snuggling, talking, and singing with your child helps get them ready to read.
ACTION RHYME: This is Big Big Big*
CLOSING SONG: Sneeze Game*
*Check out the My Baby Storytime page for the words and/or citations for these weekly activities!