You can not have too many Mother Goose storytimes. I told my storytime parents last week that Mother Goose rhymes are like kale smoothies for baby brains!
OPENING SONG: Hello Song*
OPENING FINGERPLAY: Open Them Shut Them*
BOOK: Little Robin Redbreast by HALPERN
This an older title, but I love the cut-paper illustrations, and the little ones like finding the cat and the bird on every page.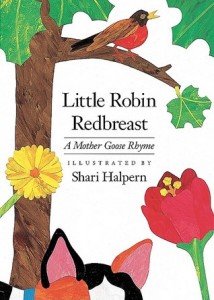 PUPPET SONG: Pussycat Pussycat
I sang this song with a cat stuffed animal and a mouse puppet.
Pussycat pussycat where have you been?
I've been to London to visit the Queen
Pussycat pussycat what did you there?
I frightened a little mouse under her chair.
FLANNEL SONG: I Had a Little Nut Tree
One of my favorite tunes. (I think I say that a lot, don't I? Well, it's true. I have many favorites!) This is a very simple flannel that I put together very quickly. I started with the tree on the board, then just added the nutmeg and the pear as we sang.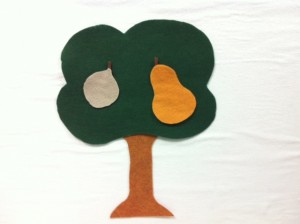 I had a little nut tree
Nothing would it bear
Except a silver nutmeg
And a golden pear.

The King of Spain's daughter
Came to visit me
And all for the sake
Of my little nut tree.
LITERACY TIP: Singing
Rhyming songs allow your baby to start to learn to hear that some words have similar sounds. This is a first step to understanding that words are made up of separate sounds. Being able to hear the separate sounds in words is a skill that children will need to have when they begin to sound out words on the page when they read.
FLANNEL SONG: A Hunting We Will Go*
Today we used cat/mat, mouse/house, bear/chair, crab/cab
BOOK: Rain by ROZANNE WILLIAMS
This is a big book from Creative Teaching Press that I found in our outreach collection. I'm not sure it is still available, though. It's the little rhyme that goes, "Rain on the green grass, rain on the tree…" It has simple cut-paper illustrations and is great for baby storytime.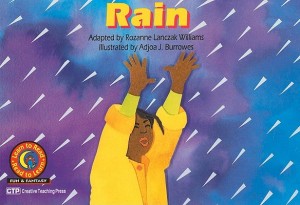 BOUNCE: One Misty Moisty Morning
This is a lesser-known nursery rhyme that was one of my favorites growing up, I think because "misty moisty" is so much fun to say. I had the grownups bounce their babies on their laps, then gently grab their babies' chins when we said "strap beneath his chin."
One misty moisty morning
When cloudy was the weather
I chanced to meet an old man
Clothed all in leather

Clothed all in leather
With a strap beneath his chin
How do you do and how do you do
And how do you do again?
ACTION SONG: The Itsy Bitsy Spider
ACTION RHYME: This is Big Big Big*
CLOSING SONG: Sneeze Game*
*Check out the My Baby Storytime page for the words and/or citations for these weekly activities!