There's nothing particularly wintery about birds, I guess, but since our skill of the month is Vocabulary, this worked well today!
OPENING SONG: Hello Song*
OPENING FINGERPLAY: Open Them Shut Them*
GUESSING GAME: Where's Baby Duckling?
I made four different colored eggs from felt, cut them in half with a jaggedy edge. Then I hide a felt duck (this one was from a counting set we have) under one of the eggs. This is a good thing to do first, since you can set up the flannel before everyone comes in. Ask, "Baby Duck, are you in the spotted egg?" Look in each egg till you find the duckling!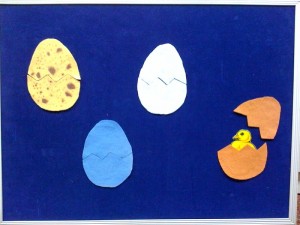 BOOK: Wow! Said the Owl by HOPGOOD
This is a cute short new picture book about an owl who stays awake during the day and is amazed by all the colors she sees!
FLANNEL RHYME: Hoot Owl Count
Five hoot owls sitting in a tree
One flew away! How many do you see?
One, two, three, four.

Four hoot owls sitting in a tree
One flew away! How many do you see?
One, two, three.

Three hoot owls…
FLANNEL SONG: Owl in the Tree
Sing to: Skip to My Lou.
Owl in the tree goes, "Hoo, hoo hoo,"
Owl in the tree goes, "Hoo, hoo hoo,"
Owl in the tree goes, "Hoo, hoo hoo,"
Skip to my lou, my darling.

Robin in the nest goes, "Tweet, tweet, tweet…"
Duck in the pond goes, "Quack, quack, quack…"
Rooster in the yard goes, "Cock a doodle doo…"
LITERACY TIP: Vocabulary
When children know many words, it's easier for them to learn to read, because it's easier to sound out words that you already know! Help them learn by using a variety of terms. Instead of just saying, "Bird," say, duck, owl, parrot, hen.
FLANNEL SONG: A Hunting We Will Go*
Today we used duck/truck, owl/towel, parrot/carrot, hen/pen
BOOK: Over in the Meadow by WADSWORTH, illus. by David A Carter
This is one of my favorite songs, so I always sing this book! We did the first 6 verses, which in this version includes the owl and let us finish with "crow," which is a nice lead-in to…
FINGERPLAY: Two Little Blackbirds
Two little blackbirds sitting on a wall
Hold pointer fingers out in front of you
One named Peter, one named Paul
Wiggle one finger, then the other
Fly away Peter! Fly away Paul!
Move one finger behind your back, then the other
Come back Peter! Come back Paul!
Bring one finger back in front, then the other
BONUS LITERACY TIP! Acting out little rhymes like these helps build vocabulary, because your movements reinforce what the words mean.
ACTION RHYME: This is Big Big Big*
CLOSING SONG: Sneeze Game*
*Check out the My Baby Storytime page for the words and/or citations for these weekly activities!