It seemed like every week this summer another one of my babies was celebrating their first birthday! It's been a long time since I built a brand-new baby storytime from the ground up, so I jumped at the chance to create a birthday celebration.
OPENING SONG: Hello Song*
OPENING FINGERPLAY: Open Them Shut Them*
BOOK: Little White Fish Gets Bigger by VAN GENECHTEN
I found this on the Barnes & Noble remainder shelves, and it's no longer available through them, but if you find it somewhere else, snap it up! It's perfect for babies and toddler storytimes.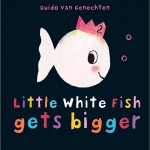 SONG: Happy Birthday Song
We sang "Happy Birthday" to Little White Fish!
FLANNEL RHYME: Ten Little Candles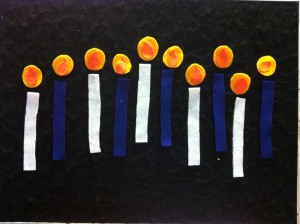 I found this rhyme on several preschool and storytime sites, including Hummingbirded.com. I adapted it slightly. I also forgot about my black flannelboard when I chose the color of the candles–I will make some more with a light blue instead!
Ten little candles on a birthday cake
Puff! Puff! (Blow out those candles!)
Now there are eight.
Eight little birthday candlesticks
Puff! Puff!
Now there are six.
Six little candles and not one more
Puff! Puff!
Now there are four.
Four little candles, white and blue
Puff! Puff!
Now there are two.
Two little candles, we're almost done
Puff! Puff!
Now there are none.
FLANNEL SONG: A Hunting We Will Go*
Today I used snake/cake, fish/dish, whale/pail, and cat/hat.
BOOK: Brownie and Pearl Step Out by RYLANT
Very simple story that introduces some of the elements of a birthday party: cake, games, friends, and even being a little nervous before you go.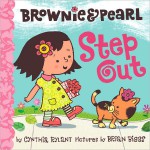 LITERACY TIP: Vocabulary
Grownups, any time you talk to your child about something new, like their first birthday party, or going to the airport, you are introducing new words to your baby and helping to build their vocabulary. We know that the more words kids know, the more words they can recognize when they begin to read.
FLANNEL SONG: Down Around the Corner
Sing to: Five Little Ducks Went Out to Play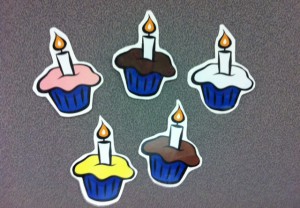 Cupcake image in Microsoft Word Clip Art
Down around the corner at the bakery shop
Were five little cupcakes with candles on top
Along came someone with a nickel to pay
And they bought a cupcake and they took it away

Down around the corner at the bakery shop
Were four little cupcakes…
ACTION RHYME: Pat a Cake
You know this one!
Pat a cake, pat a cake
Baker's man
Bake me a cake as fast as you can
Pat it and roll it
And mark it with B
And put it in the oven for Baby and me!
ACTION RHYME: This is Big Big Big*
CLOSING SONG: Sneeze Game*
*Check out the My Baby Storytime page for the words and/or citations for these weekly activities!