I'm back to fall stuff this week! I was working on refreshing our Pumpkins Storytime Resource Pack* and was determined to find material that would go with a pumpkin theme that wouldn't necessarily be all about…pumpkins.
I went a little sideways and thought of other vegetables that we harvest in the fall, and put in Grandma Lena's Big Ol' Turnip, by Denia Hester…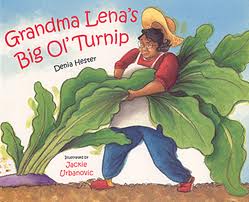 (Check out Mary's and Anne's flannelboard versions of this old folktale!)
…and from there it was just a quick jump to a "What's Missing" vegetable game.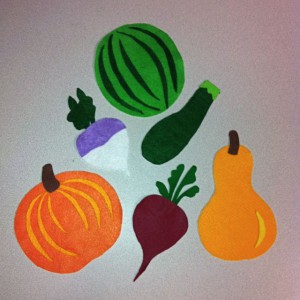 I made flannel pieces of a watermelon, turnip, zucchini, pumpkin, beet, and squash. Put them all on the board at once and say, "Wow, look at all the veggies in our garden! I'm going to pick one for dinner, and you try to guess which one is missing."
(There's a couple of ways to do this: You can make a super lightweight flannelboard by taping felt or fleece over a panel of corrugated cardboard or foamcore, and turn the board to face you while you choose, or you can just hold up a piece of cardboard or foamcore in front of the flannelboard while you make your choice. Also, Mary has a great song to sing while you're choosing one to pick.)
Then reveal the board with your missing vegetable, and see if they can figure it out! If they can't guess, you can give them clues, about what color it is, or what it rhymes with. Try taking two vegetables away at once!
You could add carrots and potatoes, and with a small group, give everyone one piece, and then have them come put them on the top half of the flannelboard if it grows above ground, or the bottom half of the board if it grows below ground. (You could read Tops and Bottoms by Janet Stevens!)
Anne at So Tomorrow has the round up this week, stop by her blog and find all the links!
PS: Other not-as-pumpkiny books for the pack are: Mrs McNosh and the Great Big Squash (lucky you if you have one, they are out of print), by Sarah Weeks; and Ugly Pie, by Lisa Wheeler (a bear goes around looking for an ugly pie; one of the nice pies he rejects is a pumpkin pie).
*These are courier bins full of books, flannelboards, puppets, props, song & rhyme ideas on a particular theme, that circulate in-house to staff on request. I get to put new stuff in them; I love my job.