It's springtime! We all feel wiggly after a long winter!
OPENING SONG: Hello Song*
OPENING FINGERPLAY: Open Them Shut Them*
BOOK: Very Hungry Caterpillar by CARLE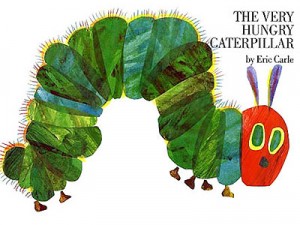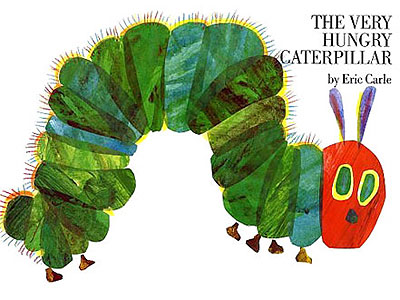 SONG: Little Arabella Miller
I learned this off a Wee Sing CD. Sing it to Twinkle, Twinkle. I use this Folkmanis caterpillar/butterfly as a prop!
Little Arabella Miller
had a fuzzy caterpillar
First she put it on her mother
Then upon her little brother
They said, "Arabella Miller,
Take away your caterpillar!"

Little Arabella Miller
Took her fuzzy caterpillar
Put it on a branch so high
Soon to be a butterfly
They said, "Arabella Miller,
Now we love your caterpillar!"
ACTION SONG: Caterpillar, Caterpillar
Sing to: Are You Sleeping?
Caterpillar caterpillar
Wiggle fingers of one hand
In the tree, in the tree
Spread arms like branches
First you wiggle this way
Wiggle hand left
Then you wiggle that way
Wiggle hands right
Look at me, look at me
Point to self
BOOK: Jump! by FISCHER
FUN new book with super rhymes.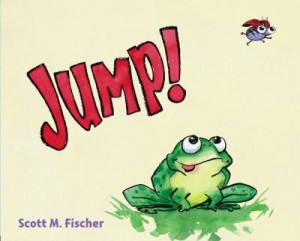 LITERACY TIP: Narrative Skills
Simple books like this with repeated patterns are great ways for very young children to test their predicting skills. Before you turn the page, ask your child, "What's going to happen next?"
BOUNCE: I'm A Little Beetle
I wrote this little rhyme a few years ago. Bounce babies in laps, then lift them up when you say, "Fly!" You can use it with toddlers and preschoolers, too–just have them JUMP when you say "Fly!"
I'm a little beetle
And I wiggle all day
If you get too close to me,
I'll FLY away!

I'm a little bumblebee…
I'm a little ladybug…
FLANNEL SONG: A Hunting We Will Go*
Today we used bug/rug, bee/tree, ants/pants, and spider/glider!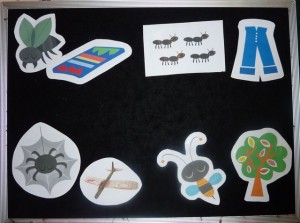 FLANNEL SONG: Ladybugs' Picnic
This is the classic Sesame Street song! Find it here.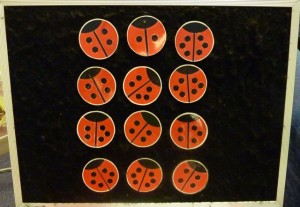 ACTION SONG: Itsy Bitsy Spider
Bonus literacy tip! Lots of nursery rhymes are really little stories. Learning these rhymes helps children understand how stories work: they have a beginning, a middle, and an end.
ACTION RHYME: This is Big Big Big*
CLOSING SONG: Sneeze Game*
*Check out the My Baby Storytime page for the words and/or citations for these weekly activities!