Babies love playing peekaboo with the people they love and the faces they know!
OPENING SONG: Hello Song*
OPENING FINGERPLAY: Open Them Shut Them*
BOOK: Peekaboo Morning by ISADORA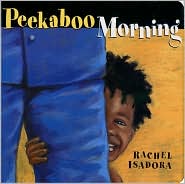 LITERACY TIP: Phonological Awareness
You may get a little bored saying "Peekaboo!" over and over again, but your baby LOVES it when you do. Babies need to hear words repeatedly to learn the sounds that make them up. Being able to hear all the separate sounds in every word will be a big help when they start to learn to read!
GUESSING GAME: PEEKABOO HOUSE
This little manipulative set is in our Peekaboo Baby Storytime Kit! Our Programming Department has developed and gathered books, resources, puppets, flannels on different themes, and staff can request the kits to help them build their storytimes. This house set comes with a suggestion to sing the following song to the tune of "London Bridge." But you could also talk through a set of questions instead of sing. You could say, "What is in my house? My house has something with four legs, and a flat top. We put our dishes on it for dinner. What is it? The table!" This set is from Lakeshore, but I can not find it on their website to give you a link!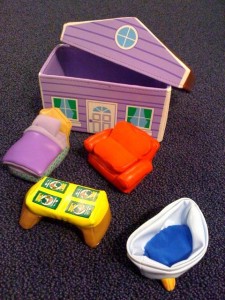 What is in my purple house, purple house, purple house?
What is in my purple house? Let's look and see.

A yellow table with brown legs, with brown legs, with brown legs,
A yellow table with brown legs, in my house.

There's the bathtub painted blue…
Oh look, here's a big red chair…
Now I see a purple bed…

Now you've seen what's in my house, in my house, in my house,
Now you've seen what's in my house, in my house.
FLANNEL SONG: A Hunting We Will Go*
Today I tried to find objects you'd find in a house. Bear/chair, bug/rug, fish/dish & mouse/house …
BOOK: Where's Spot? by ERIC HILL


SONG: Where Is Thumbkin?
I just do thumbs, pointer fingers, and pinkies!
BOOK: Baby Says Peekaboo! by DAVE KING/DK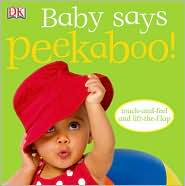 FLANNEL RHYME: One Little Baby
I used five of my baby faces for this rhyme!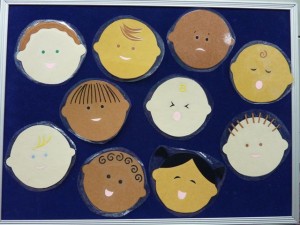 One little baby rocking in a tree
Two little babies splashing in the sea
Three little babies crawling on the floor
Four little babies knocking on the door
Five little babies playing hide and seek
Keep your eyes closed…
Till I say "peek!"
BOUNCE: Great A Little A
Bounce baby on your knees!
Great A, little a, bouncing B
Cat's in the cupboard, and can't see me!
PLAY: Mirrors
The Storytime Kit also comes with 15 hand mirrors! So I handed them out and let the babies explore while I asked questions. If they wanted to do their own thing, that was just fine! If they wanted to listen and follow along to me, that was fine, too. I asked simple questions like, "Do you see your nose? Can you touch your nose? Where are your eyes? Can you close your eyes?" The babies can hold on to the mirrors for the last two activities, and play with them after storytime, too.
ACTION RHYME: This is Big Big Big*
CLOSING SONG: Sneeze Game*
*Check out the My Baby Storytime page for the words and/or citations for these weekly activities!