I have traditionally shied away from doing too many "preschool concept" storytimes for the babies, because I haven't wanted to make parents feel like they are something their 9-month-olds should know already. But baby storytime in my district covers birth through 2 year olds, and you can definitely start talking to 2s about things like colors and shapes. Besides, this month's skill is Letter Knowledge, and while we definitely don't want to get the letter flashcards out with the babies, we can tell the grownups that any time they talk about same and different, they are laying the very first foundations for the skills needed to tell letters apart later on.
OPENING SONG: Hello Song*
OPENING FINGERPLAY: Open Them Shut Them*
BOOK: Little White Fish by VAN GENECHTEN
FLANNEL SONG: A Hunting We Will Go*
whale/pail; fish/dish; crab/cab; snail/scale
FINGERPLAY: Where Is Thumbkin?
BOOK: Brown Bear, Brown Bear, What Do You See? by MARTIN JR
GUESSING GAME: Brown Bear, Are You in the Red House?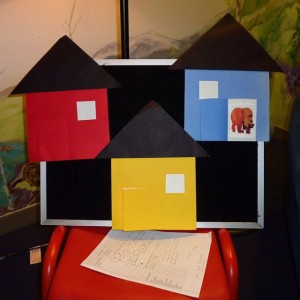 SONG: Baa Baa Black Sheep
I use pop stick puppets with this song, and sing it with different color sheep.

LITERACY TIP: Letter Knowledge
For the first year or two, our babies are just not going to be keyed in to letters yet. That's okay! You can help them build the skills they'll need later on. Any time you talk about things that are the same and different, you help get them ready to tell things apart–including letters.
SONG WITH SCARVES: Jenny Jenkins
Traditional. I played this song in the background while I handed out our scarves. We just danced and goofed around while the music was playing.
ACTION RHYME: This is Big Big Big*
CLOSING SONG: Sneeze Game*
*Check out the My Baby Storytime page for the words and/or citations for these weekly activities!