I'm trying a Shapes storytime for the first time with the babies today! I try not to focus too much on "preschool skills" in baby storytime, but our literacy skill of the month is Letter Knowledge. I like to remind the grown-ups that starting to talk about different shapes, colors, sizes, opposites, and other ideas can help build the skills kids will need to tell letters apart later on.
OPENING SONG: Hello Song*
OPENING FINGERPLAY: Open Them Shut Them*
BOOK: It Looked Like Spilt Milk by CHARLES SHAW



I chose this title because we have a big book copy of it, but Little Cloud by Eric Carle would work as well.
GUESSING GAME: Where Is Little Cloud?
"Little Cloud, are you behind the green rectangle? Are you behind the blue triangle?"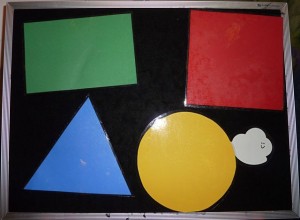 FINGERPLAY: Big Round Sun
Some days we are smarter than we think…I made all those shapes and then only afterwards realized that I made the circle yellow and that it could be the sun for this rhyme!
Big round sun in the summer sky
Hold arms in circle over head
Waved to a cloud that was passing by
Wave!
The little cloud laughed as it started to rain
Wiggle fingers downward for rain
And out came the big round sun again.
Hold up arms in circle above head again
SONG: Twinkle Twinkle, Little Star
BOOK: Round is a Mooncake by ROSEANNE THONG



I chose just a few pages to read from this book.
LITERACY TIP: Letter Knowledge Learning shapes helps gets kids ready to learn letters! Triangles and circles help them get ready for As and Os. Learning about any differences, or opposites, will help them, too.
ACTIVITY: Roll, Roll, Sugar Babies
Thanks to Reading Chick for teaching me this one!
Roll roll sugar babies
Roll roll sugar babies
Roll babies hands over each other like Wheels on the Bus
Push
Gently push baby's arms…lean forward or back if they are sitting on your lap, or pull on their arms if they are lying on their backs. Remember to make sure the motion is "pushing" from their point of view!
Pull
Gently pull baby's arms
Clap clap clap
Clap!

You can also do other opposites together, like "Up" and "Down" and "Right" and "Left".
FLANNEL SONG: A Hunting We Will Go*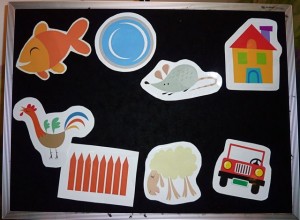 We talked about the round dish and the square windows and the straight lines of the hen's pen.
ACTION RHYME: This is Big Big Big*
CLOSING SONG: Sneeze Game*
*Check out the My Baby Storytime page for the words and/or citations for these weekly activities!